Menu
Zone type:ab<== ==>place:ab<===
Webmaster: ZonePlace=ab; dzial=wiadomosci; Stan delivery
Iga Świątek entered the WTA tournaments in Adelaide, Doha and Dubai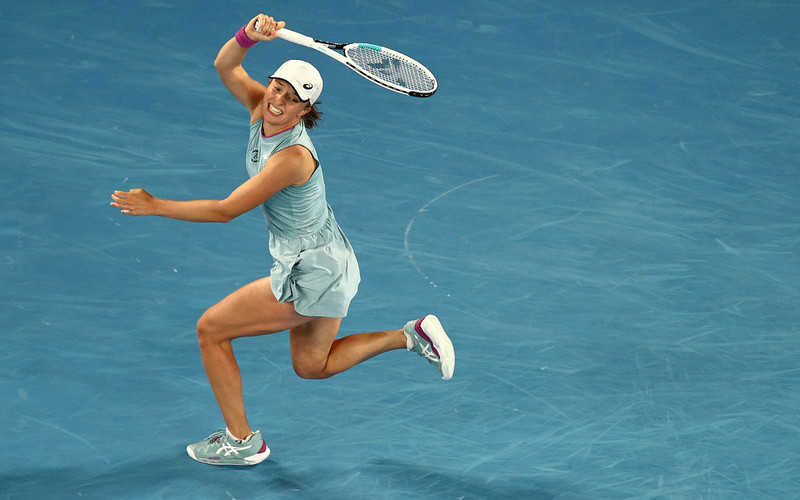 Iga Świątek is registered for the WTA tournament in Adelaide that starts on Sunday. In the first half of March, the Polish tennis player is planning to perform in the series in Doha and Dubai.
Zone type:video<== ==>place:video<===
Webmaster: ZonePlace=video; dzial=wiadomosci; Stan delivery
Zone type:e-mobile<== ==>place:e1-mobile<===
Webmaster: ZonePlace=e1-mobile; dzial=wiadomosci; Stan delivery
News available in Polish
Jak podkreślają cytowane w mediach osoby z otoczenia Świątek, 17. rakieta świata i jej sztab czekają jeszcze na potwierdzenie zasad obowiązujących podczas zawodów w Adelajdzie (pula nagród 535,5 tys. dol.) w związku z pandemią COVID-19. Na liście zgłoszeń są też m.in. Kanadyjka Bianca Andreescu i Szwajcarka Belinda Bencic.
Udział w tym turnieju oznaczałby przedłużenie pobytu 19-letniej Polki na antypodach. We wtorek zakończyła występ w wielkoszlemowym Australian Open, z którego odpadła - zarówno w singlu, jak i w mikście - w 1/8 finału.
Rywalizacja w Adelajdzie - tak jak w Dausze i Dubaju - będzie się toczyć na kortach twardych. Zmagania w Katarze ruszą 1 marca, a te w Zjednoczonych Emiratach Arabskich tydzień później.
Czytaj więcej:
Iga Świątek nie dała szans Ferro. Polka w 1/8 finału Australian Open
Australian Open: Iga Świątek i Łukasz Kubot wygrali w pierwszej rundzie miksta
Australian Open: Świątek przegrała z Halep w trzech setach w 1/8 finału
AdsByGoogle - In-Feed slot=4906192224
Zone type:d<== ==>place:d1<===
Webmaster: ZonePlace=d1; dzial=wiadomosci; Stan delivery
Zone type:e-desktop<== ==>place:e1-desktop<===
Webmaster: ZonePlace=e1-desktop; dzial=wiadomosci; Stan delivery
Zone type:d<== ==>place:d2<===
Webmaster: ZonePlace=d2; dzial=wiadomosci; Stan delivery
Zone type:d<== ==>place:d3<===
Webmaster: ZonePlace=d3; dzial=wiadomosci; Stan delivery
Zone type:d<== ==>place:d4<===
Webmaster: ZonePlace=d4; dzial=wiadomosci; Stan delivery