Menu
Zone type:ab<== ==>place:ab<===
Webmaster: ZonePlace=ab; dzial=wiadomosci; Stan delivery
Ibrahimovic planning talks on extending Milan stay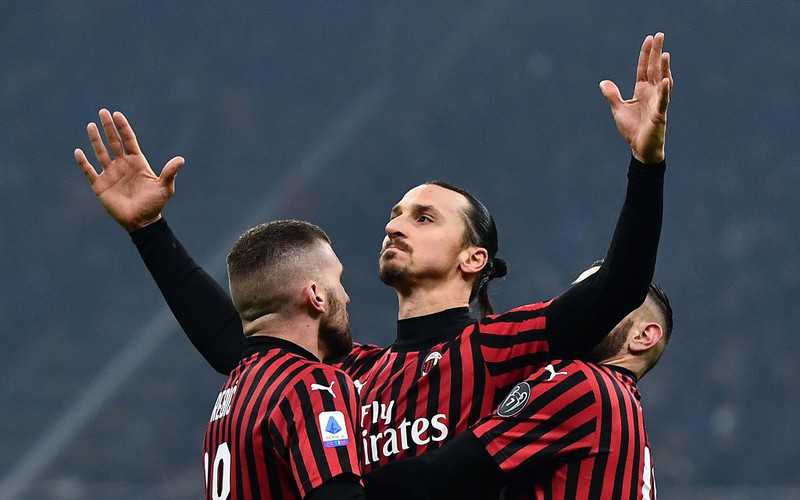 Despite turning 40 this year, Zlatan Ibrahimovic is thinking about extending his stay at AC Milan beyond this season with talks planned over a new contract, the Swede said on Friday.
Zone type:video<== ==>place:video<===
Webmaster: ZonePlace=video; dzial=wiadomosci; Stan delivery
Zone type:e-mobile<== ==>place:e1-mobile<===
Webmaster: ZonePlace=e1-mobile; dzial=wiadomosci; Stan delivery
News available in Polish
Słynny zawodnik udzielił wywiadu gazecie "La Repubblica", w którym zapewnił, że czuje się jeszcze na siłach, by grać na najwyższym poziomie.
W tym sezonie Ibrahimovic z powodu kontuzji nie mógł zagrać w ośmiu meczach Serie A, a i tak udało mu się już strzelić 10 bramek (w sześciu występach). Milan po 17 kolejkach jest liderem tabeli z dorobkiem 40 punktów. Drugi Inter ma o trzy mniej.
"To wszystko daje mi odpowiedź, czy jestem jeszcze w stanie rywalizować w jednej z najsilniejszych lig Europy. Mój kontrakt w czerwcu wygasa, ale mamy zamiar usiąść do rozmów. Nie chcę jednak doprowadzić do sytuacji bez wyjścia, dlatego nie podpisuję już umów długoterminowych" - oznajmił Szwed.
Kończący w październiku 40 lat Ibrahimovic w swojej karierze grał już m.in. w Barcelonie, Paris Saint Germain, Manchesterze United, Juventusie Turyn czy Interze Mediolan.
Czytaj więcej:
"Jestem Zlatan Ibrahimovic i dopiero się rozgrzewam"
Ibrahimovic zostaje w AC Milan
Ibrahimovic wróci do reprezentacji Szwecji? Tajemniczy wpis
Zlatan Ibrahimovic po raz 12. szwedzkim "Piłkarzem Roku"
AdsByGoogle - In-Feed slot=4906192224
Zone type:d<== ==>place:d1<===
Webmaster: ZonePlace=d1; dzial=wiadomosci; Stan delivery
Zone type:e-desktop<== ==>place:e1-desktop<===
Webmaster: ZonePlace=e1-desktop; dzial=wiadomosci; Stan delivery
Zone type:d<== ==>place:d2<===
Webmaster: ZonePlace=d2; dzial=wiadomosci; Stan delivery
Zone type:d<== ==>place:d3<===
Webmaster: ZonePlace=d3; dzial=wiadomosci; Stan delivery
Zone type:d<== ==>place:d4<===
Webmaster: ZonePlace=d4; dzial=wiadomosci; Stan delivery