Menu
Zone type:ab<== ==>place:ab<===
Webmaster: ZonePlace=ab; dzial=wiadomosci; Stan delivery
Ibrahimović voted greatest goal in MLS history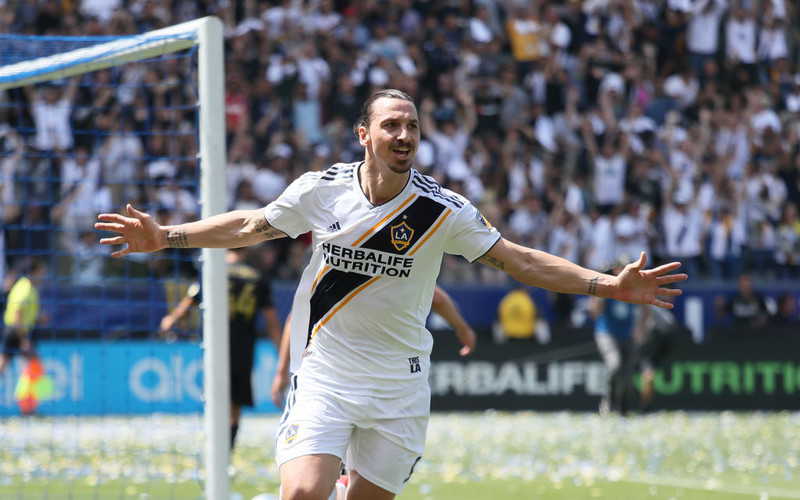 Major League Soccer Thursday announced that former LA Galaxy striker Zlatan Ibrahimović's wonder goal in his debut MLS match on March 31, 2018 has been named The Greatest Goal.
Zone type:video<== ==>place:video<===
Webmaster: ZonePlace=video; dzial=wiadomosci; Stan delivery
Zone type:e-mobile<== ==>place:e1-mobile<===
Webmaster: ZonePlace=e1-mobile; dzial=wiadomosci; Stan delivery
News available in Polish
Słynny szwedzki piłkarz tego dnia debiutował w ekipie Galaxy, która grała z lokalnym rywalem - LAFC. Ibrahimovic otrzymał górną piłkę ok. 40 metrów od bramki przeciwników i wiele się nie namyślając posłał potężne uderzenie, lobując nieco wysuniętego bramkarza.
Było to trafienie na 3:3. W końcówce spotkania 39-letni obecnie Szwed zdobył kolejną bramkę, ustalając wynik na 4:3.
Było to efektowne, ale nie pierwsze "przywitanie" Ibrahimovica z klubem i kibicami. Wcześniej wykupił całą stronę na łamach gazety "Los Angeles Times", gdzie zamieścił wiadomość: "Dear Los Angeles, You're Welcome" (Drogie Los Angeles, nie ma za co).
W LA Galaxy grał w latach 2018-2020. Obecnie broni barw lidera włoskiej ekstraklasy AC Milan i prowadzi w ligowej klasyfikacji strzelców, ex aequo z Belgiem Romelu Lukaku (Inter Mediolan) i Portugalczykiem Cristiano Ronaldo (Juventus Turyn). Wszyscy mają po 10 goli.
Czytaj więcej:
"Jestem Zlatan Ibrahimovic i dopiero się rozgrzewam"
Ibrahimovic spędza wakacje na jachcie wartym miliony
Ibrahimovic wciąż zadziwia. Milan liderem
Zlatan Ibrahimovic po raz 12. szwedzkim "Piłkarzem Roku"
AdsByGoogle - In-Feed slot=4906192224
Zone type:d<== ==>place:d1<===
Webmaster: ZonePlace=d1; dzial=wiadomosci; Stan delivery
Zone type:e-desktop<== ==>place:e1-desktop<===
Webmaster: ZonePlace=e1-desktop; dzial=wiadomosci; Stan delivery
Zone type:d<== ==>place:d2<===
Webmaster: ZonePlace=d2; dzial=wiadomosci; Stan delivery
Zone type:d<== ==>place:d3<===
Webmaster: ZonePlace=d3; dzial=wiadomosci; Stan delivery
Zone type:d<== ==>place:d4<===
Webmaster: ZonePlace=d4; dzial=wiadomosci; Stan delivery