Menu
Zone type:ab<== ==>place:ab<===
Webmaster: ZonePlace=ab; dzial=wiadomosci; Stan delivery
German league: Lewandowski in the eleven of the turn of the "Kicker"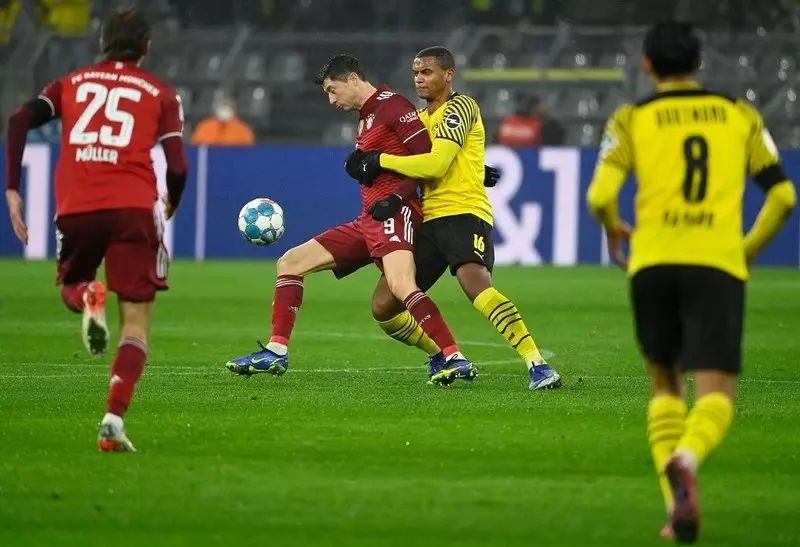 Robert Lewandowski has been included in the Bundesliga 'eleven of the week' for the fourth time this season, selected by the prestigious magazine 'Kicker'. The Polish footballer scored two goals for Bayern Munich in Saturday's match against Borussia Dortmund (3:2).
Zone type:video<== ==>place:video<===
Webmaster: ZonePlace=video; dzial=wiadomosci; Stan delivery
Zone type:e-mobile<== ==>place:e1-mobile<===
Webmaster: ZonePlace=e1-mobile; dzial=wiadomosci; Stan delivery
News available in Polish
Za swój występ w szlagierze 14. kolejki Lewandowski otrzymał notę 1,5 (w skali od 1-6; im niższa, tym lepsza).
W sobotnim meczu w Dortmundzie 33-letni napastnik, w przeszłości gracz tamtejszej Borussii, trafił do siatki w dziewiątej oraz 77. minucie, gdy z rzutu karnego ustalił wynik. Łącznie ma już 16 goli w tym sezonie Bundesligi i o cztery wyprzedza Patrika Schicka.
Najlepszym piłkarzem 14. kolejki wybrano właśnie czeskiego napastnika Bayeru Leverkusen. Schick strzelił aż cztery gole w sobotnim meczu z Greuther Fuerth (7:1) i otrzymał od "Kickera" najwyższą z możliwych notę 1, oznaczająca klasę światową.
Czytaj więcej:
Liga niemiecka: Maksymalnie 15 tysięcy widzów na stadionach
Liga niemiecka: Dwa gole Lewandowskiego, Bayern lepszy w klasyku
Trener Bayernu: Kibice Borussii zmobilizowali Lewandowskiego
AdsByGoogle - In-Feed slot=4906192224
Zone type:d<== ==>place:d1<===
Webmaster: ZonePlace=d1; dzial=wiadomosci; Stan delivery
Zone type:e-desktop<== ==>place:e1-desktop<===
Webmaster: ZonePlace=e1-desktop; dzial=wiadomosci; Stan delivery
Zone type:d<== ==>place:d2<===
Webmaster: ZonePlace=d2; dzial=wiadomosci; Stan delivery
Zone type:d<== ==>place:d3<===
Webmaster: ZonePlace=d3; dzial=wiadomosci; Stan delivery
Zone type:d<== ==>place:d4<===
Webmaster: ZonePlace=d4; dzial=wiadomosci; Stan delivery