Menu
Zone type:ab<== ==>place:ab<===
Webmaster: ZonePlace=ab; dzial=wiadomosci; Stan delivery
French league: PSG win with Mbappe injury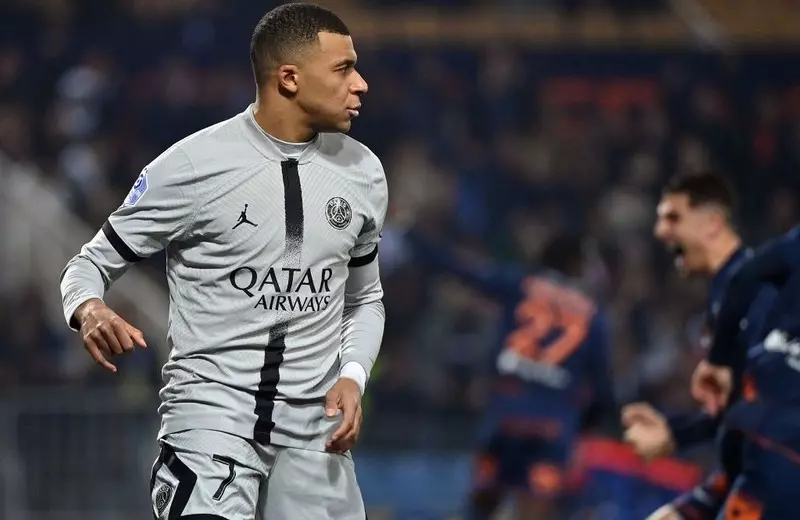 Paris Saint Germain's players beat Montpellier 3-1 away in the 21st round of the French top flight and strengthened their lead in the table. World Cup top scorer Kylian Mbappe suffered an injury in the first half. RC Lens lost the runner-up position after losing 1-0 to Nice at home.
Zone type:video<== ==>place:video<===
Webmaster: ZonePlace=video; dzial=wiadomosci; Stan delivery
Zone type:e-mobile<== ==>place:e1-mobile<===
Webmaster: ZonePlace=e1-mobile; dzial=wiadomosci; Stan delivery
News available in Polish
To był bardzo pechowy wieczór dla Mbappe. W 10. minucie słynny napastnik nie wykorzystał rzutu karnego. Jego pierwszą próbę bramkarz gospodarzy obronił, jednak "jedenastkę" powtórzono, ponieważ obrońcy za szybko wbiegli w pole karne. Za drugim razem trafił w słupek, piłka do niego wróciła, ale 24-letni zawodnik nie popisał się przy dobitce, posyłając piłkę wysoko nad bramką.
Kilka minut później Mbappe musiał zostać zmieniony - doznał kontuzji lewego uda. Na razie nie wiadomo, jak długo potrwa przerwa w grze.
Wszystkie bramki w tym meczu padły w drugiej połowie. Dla paryżan strzelili Hiszpan Fabian Ruiz, argentyński mistrz świata Lionel Messi i zaledwie 16-letni Warren Zair-Emery, a dla gospodarzy Arnaud Nordin.
Broniący tytułu PSG ma 51 punktów i o pięć wyprzedza nowego wicelidera Olympique Marsylia (2:0 na wyjeździe z Nantes).
Na trzecie miejsce spadł RC Lens - 45 pkt, który uległ u siebie Nice 0:1. W ekipie gospodarzy cały mecz rozegrał Przemysław Frankowski, a Łukasz Poręba wszedł na boisko w 65. minucie. Trzeci z Polaków w Lens - Adam Buksa - wciąż pauzuje z powodu kontuzji.
Ten wynik oznacza, że piłkarze Lens zakończyli serię 10 ligowych meczów bez porażki.
Czytaj więcej:
Liga francuska: RC Lens nie wykorzystał szansy dogonienia PSG
Liga francuska: PSG nie odskoczyło od Lens
Liga francuska: Transfer Ziyecha do PSG nie doszedł do skutku
AdsByGoogle - In-Feed slot=4906192224
Zone type:d<== ==>place:d1<===
Webmaster: ZonePlace=d1; dzial=wiadomosci; Stan delivery
Zone type:e-desktop<== ==>place:e1-desktop<===
Webmaster: ZonePlace=e1-desktop; dzial=wiadomosci; Stan delivery
Zone type:d<== ==>place:d2<===
Webmaster: ZonePlace=d2; dzial=wiadomosci; Stan delivery
Zone type:d<== ==>place:d3<===
Webmaster: ZonePlace=d3; dzial=wiadomosci; Stan delivery
Zone type:d<== ==>place:d4<===
Webmaster: ZonePlace=d4; dzial=wiadomosci; Stan delivery