Menu
Zone type:ab<== ==>place:ab<===
Webmaster: ZonePlace=ab; dzial=wiadomosci; Stan delivery
Forum Nordicum: Kubacki received the 2020 "King of Ski" award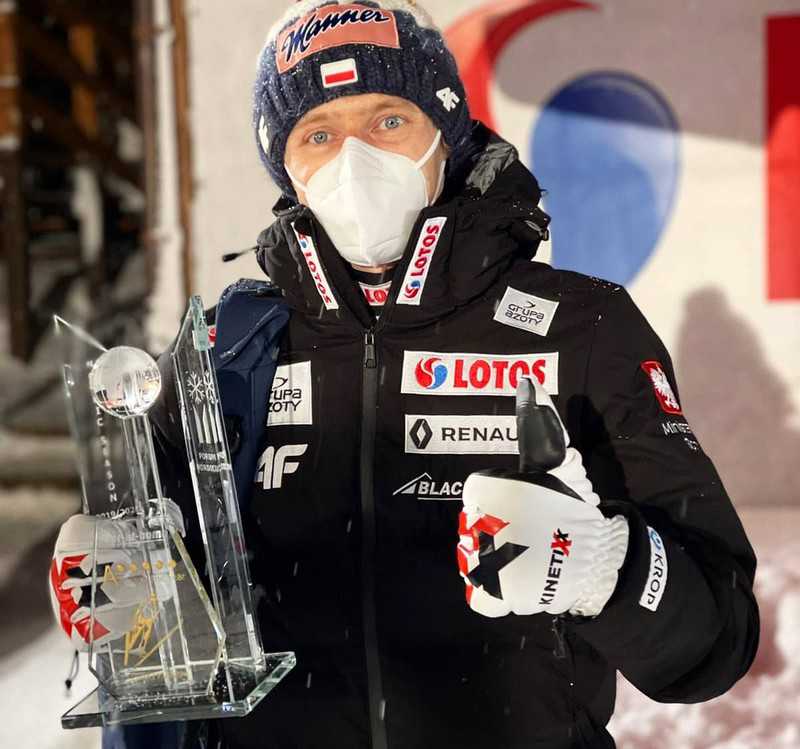 Yesterday in Zakopane, jumper Dawid Kubacki received the 2020 'King of Ski' award, which was awarded by the members of Forum Nordicum. It consists of journalists specializing in Nordic skiing and biathlon.
Zone type:video<== ==>place:video<===
Webmaster: ZonePlace=video; dzial=wiadomosci; Stan delivery
Zone type:e-mobile<== ==>place:e1-mobile<===
Webmaster: ZonePlace=e1-mobile; dzial=wiadomosci; Stan delivery
News available in Polish
Kubacki 2020 rok zaczął od triumfu w Turnieju Czterech Skoczni. Następnie na średnim obiekcie w Seefeld zdobył złoty medal mistrzostw świata.
Wręczenie nagrody nastąpiło po zakończeniu kwalifikacji do niedzielnego konkursu Pucharu Świata w Zakopanem. Kubacki otrzymał statuetkę z rąk przedstawicieli Forum Nordicum oraz dyrektora Pucharu Świata Sandro Pertile.
Dwukrotnie tytuł "Króla nart" w latach 2001 i 2003 otrzymał Adam Małysz. Tyle samo razy triumfował Kamil Stoch (2014 i 2018, kiedy tytuł podzielił ze szwajcarskim biegaczem Dario Cologną).
Forum Nordicum powołali do życia w 1980 roku trzej dziennikarze, Niemcy Bruno Moravetz i Werner Kirchhofer oraz Austriak Willi Ahstl.
AdsByGoogle - In-Feed slot=4906192224
Zone type:d<== ==>place:d1<===
Webmaster: ZonePlace=d1; dzial=wiadomosci; Stan delivery
Zone type:e-desktop<== ==>place:e1-desktop<===
Webmaster: ZonePlace=e1-desktop; dzial=wiadomosci; Stan delivery
Zone type:d<== ==>place:d2<===
Webmaster: ZonePlace=d2; dzial=wiadomosci; Stan delivery
Zone type:d<== ==>place:d3<===
Webmaster: ZonePlace=d3; dzial=wiadomosci; Stan delivery
Zone type:d<== ==>place:d4<===
Webmaster: ZonePlace=d4; dzial=wiadomosci; Stan delivery