Menu
Zone type:ab<== ==>place:ab<===
Webmaster: ZonePlace=ab; dzial=wiadomosci; Stan delivery
European Golden Shoe: Lewandowski incresases the advantage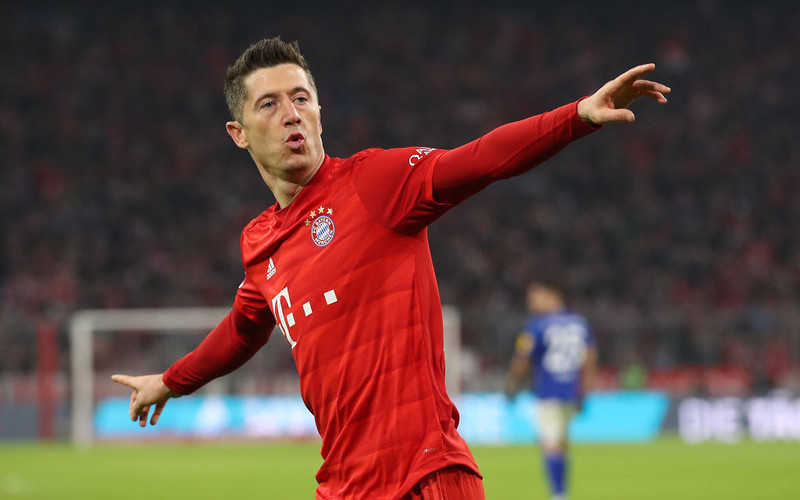 Robert Lewandowski, after his recent appearances, strengthened himself at the forefront of the 'Golden Shoe' classification - an award for the best scorer in European leagues.
Zone type:video<== ==>place:video<===
Webmaster: ZonePlace=video; dzial=wiadomosci; Stan delivery
Zone type:e-mobile<== ==>place:e1-mobile<===
Webmaster: ZonePlace=e1-mobile; dzial=wiadomosci; Stan delivery
News available in Polish
Najmocniejsze ligi mają współczynnik "2", stąd 48 pkt za 24 trafienia. Na drugie miejsce awansował Nigeryjczyk Paul Onuachu z belgijskiego Genku – 33 (22 gole/przelicznik 1,5).
Trzeci jest Portugalczyk Andre Silva z Eintrachtu Frankfurt - 32 (16/2). Z drugiej na piątą pozycję spadł jego rodak Cristiano Ronaldo z Juventusu Turyn – 30 pkt (15/2).
Więcej trafień od Lewandowskiego ma m.in. grający dotychczas w lidze norweskiej Duńczyk Kasper Junker z Bodoe/Glimt - 27, ale współczynnik wynosi 1, stąd 11. lokata. W drugiej dziesiątce są też Estończyk Rauno Sappinen z Flory Tallinn - 26 goli i Amahl Pellegrino z Kristiansund - 25.
Lewandowski pewnie zmierza po szósty tytuł króla strzelców niemieckiej ekstraklasy. W sobotę napastnik Bayernu Monachium zdobył bramkę w wygranym 4:1 spotkaniu z Hoffenheim. Ma ich łącznie 24 i wyprzedza Silvę 16.
W poprzednim sezonie laureatem nagrody "Złoty But" został Włoch Ciro Immobile z Lazio Rzym. Lewandowski był drugi.
Czytaj więcej:
Lewandowski o Kloppie: "Był jak ojciec, ale i surowy nauczyciel"
"Złoty But": Robert Lewandowski zdecydowanym liderem
Lewandowski po raz drugi z rzędu w drużynie roku UEFA
Lewandowski z kolejnym golem. Polak pobił rekord Bundesligi
"Złoty But": Lewandowski powiększa przewagę
Lewandowski goni rekord Muellera, 260 goli Polaka
AdsByGoogle - In-Feed slot=4906192224
Zone type:d<== ==>place:d1<===
Webmaster: ZonePlace=d1; dzial=wiadomosci; Stan delivery
Zone type:e-desktop<== ==>place:e1-desktop<===
Webmaster: ZonePlace=e1-desktop; dzial=wiadomosci; Stan delivery
Zone type:d<== ==>place:d2<===
Webmaster: ZonePlace=d2; dzial=wiadomosci; Stan delivery
Zone type:d<== ==>place:d3<===
Webmaster: ZonePlace=d3; dzial=wiadomosci; Stan delivery
Zone type:d<== ==>place:d4<===
Webmaster: ZonePlace=d4; dzial=wiadomosci; Stan delivery