Menu
Zone type:ab<== ==>place:ab<===
Webmaster: ZonePlace=ab; dzial=wiadomosci; Stan delivery
Dawid Kownacki suffered a very serious injury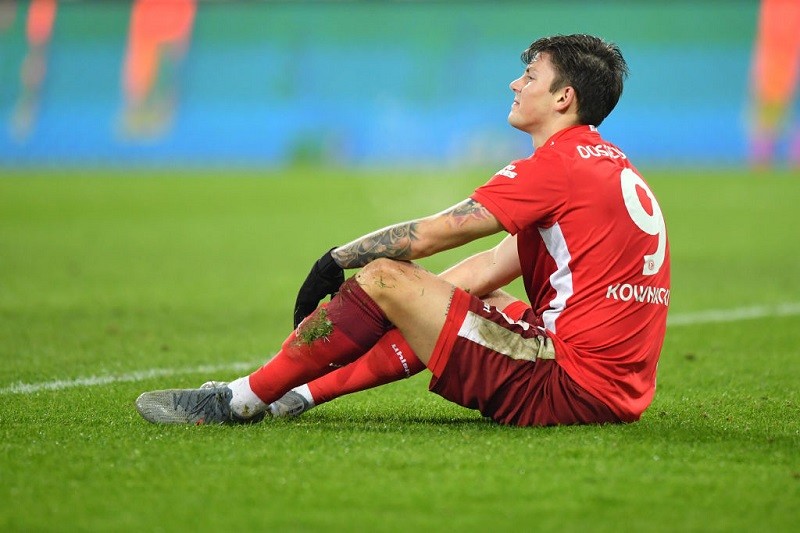 Dawid Kownacki suffered a serious injury, which will exclude him from the game for many months - informed the club of the Polish footballer Fortuna Duesseldorf. The 24-year-old attacker has a ruptured collateral ligament in his right knee.
Zone type:video<== ==>place:video<===
Webmaster: ZonePlace=video; dzial=wiadomosci; Stan delivery
Zone type:e-mobile<== ==>place:e1-mobile<===
Webmaster: ZonePlace=e1-mobile; dzial=wiadomosci; Stan delivery
News available in Polish
Urazu nabawił się na treningu przed sobotnim spotkaniem z Jahnem Regensburg w 2. Bundeslidze, czyli na zapleczu niemieckiej ekstraklasy. Późniejsze badania wykazały, że kontuzja jest poważna i będzie konieczna operacja.
Kownacki pauzował przez kilka miesięcy także w ubiegłym roku, również z powodu problemów z kolanem. Wrócił do gry w czerwcu, ale na początku kolejnego sezonu znów musiał pauzować przez kilka tygodni - tym razem przyczyną była kontuzja mięśniowa. W obecnym sezonie wystąpił w pięciu spotkaniach ligowych, ale żadnego nie rozegrał w pełnym wymiarze czasowym.
Po siedmiu kolejkach Fortuna ma osiem punktów i zajmuje 13 miejsce. Prowadzi SC Paderborn, który podobnie jak Jahn Regensburg zgromadził 14 "oczek".
Czytaj więcej:
Liga niemiecka : 34 gole Lewandowskiego, spadek drużyny Kownackiego
Liga niemiecka: Kownacki jednym z piłkarzy Fortuny z koronawirusem
Nicola Zalewski i Adam Buksa powołani do reprezentacji Polski
AdsByGoogle - In-Feed slot=4906192224
Zone type:d<== ==>place:d1<===
Webmaster: ZonePlace=d1; dzial=wiadomosci; Stan delivery
Zone type:e-desktop<== ==>place:e1-desktop<===
Webmaster: ZonePlace=e1-desktop; dzial=wiadomosci; Stan delivery
Zone type:d<== ==>place:d2<===
Webmaster: ZonePlace=d2; dzial=wiadomosci; Stan delivery
Zone type:d<== ==>place:d3<===
Webmaster: ZonePlace=d3; dzial=wiadomosci; Stan delivery
Zone type:d<== ==>place:d4<===
Webmaster: ZonePlace=d4; dzial=wiadomosci; Stan delivery