Menu
Zone type:ab<== ==>place:ab<===
Webmaster: ZonePlace=ab; dzial=wiadomosci; Stan delivery
Cristiano Ronaldo with record of national team appearances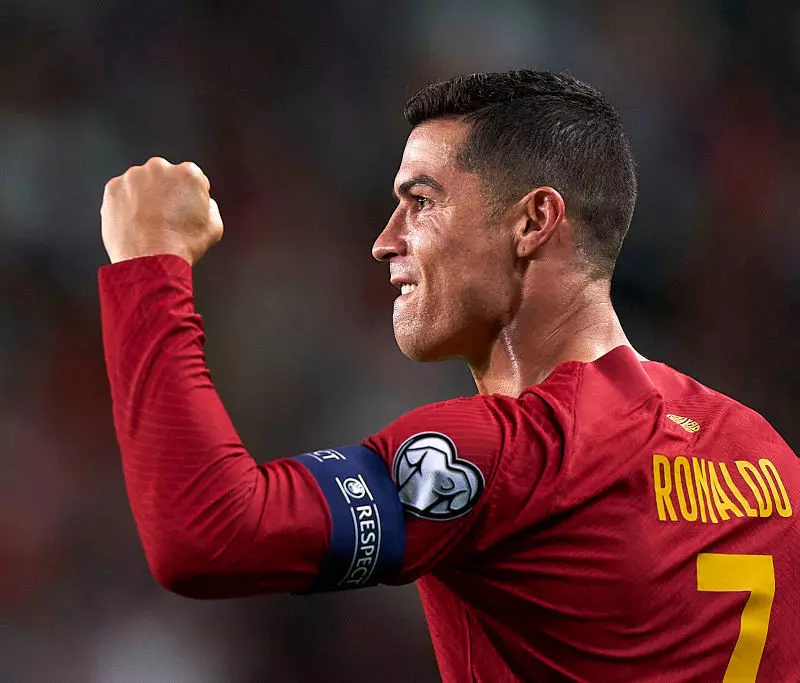 Cristiano Ronaldo became the player with the most appearances for the national team. The Portuguese played in yesterday's European Championship qualifying match against Liechtenstein and scored his 197th appearance in the national colors.
Zone type:video<== ==>place:video<===
Webmaster: ZonePlace=video; dzial=wiadomosci; Stan delivery
Zone type:e-mobile<== ==>place:e1-mobile<===
Webmaster: ZonePlace=e1-mobile; dzial=wiadomosci; Stan delivery
News available in Polish
38-letni Ronaldo do tej pory rekord dzielił z Baderem Al-Mutawą z Kuwejtu.
Portugalczyk w seniorskiej reprezentacji zadebiutował 20 sierpnia 2003 w meczu z Kazachstanem, wygranym 1:0. "CR7" - po objęciu kadry przez hiszpańskiego trenera Roberto Martineza - nadal należy do podstawowych zawodników kadry.
Ronaldo w karierze strzelił też rekordową liczbę 118 bramek dla swojej ojczyzny. Pojawiły się znaki zapytania, co do jego międzynarodowej przyszłości po tym, jak opuścił boisko we łzach po wyeliminowaniu Portugalii przez Maroko w ćwierćfinale MŚ, ale został powołany na pierwsze zgrupowanie po mundialu.
Martinez przyznał, że Ronaldo "jest bardzo ważny dla zespołu", a on nie zamierza patrzeć na wiek.
Cristiano Ronaldo has become the most capped men's player in international football after making his 197th Portugal appearance last night against Liechtenstein. pic.twitter.com/zE8Zkxa1jH

— TV47 (@tv47news) March 24, 2023
Piłkarz w listopadzie opuścił Manchester United po kontrowersyjnym wywiadzie, w którym skrytykował klub. Obecnie występuje w Arabii Saudyjskiej, gdzie strzelił dziewięć bramek w 10 występach dla An-Nassr Rijad.
"Rekordy są moją motywacją. Byłbym z tego dumny, gdybym został piłkarzem z największą liczbą występów w historii" - przyznał Ronaldo przed spotkaniem z Liechtensteinem.
Piłkarze z największą liczbą występów w reprezentacji:
imię, nazwisko, kraj, mecze, debiut
1. Cristiano Ronaldo, Portugalia, 197, 2003
2. Bader Al-Mutawa, Kuwejt, 196, 2003
3. Soh Chin Ann, Malezja, 195, 1969
4. Ahmed Hassan, Egipt, 184, 1995
5. Ahmed Mubarak, Oman, 183, 2003
6. Sergio Ramos, Hiszpania, 180, 2005
7. Andres Guardado, Meksyk, 179, 2005
8. Mohamed Al-Deayea, Arabia Saudyjska, 178, 1993
9. Claudio Suarez, Meksyk, 177, 1992
10. Gianluigi Buffon, Włochy, 176, 1997
Czytaj więcej:
Wściekły Ronaldo kopał butelki z wodą po ligowej porażce
Cristiano Ronaldo strzelił gola z rzutu wolnego i odstąpił koledze rzut karny
El. ME 2024: Anglia ograła Włochy w szlagierze. Rekordy Kane'a i Ronaldo
AdsByGoogle - In-Feed slot=4906192224
Zone type:d<== ==>place:d1<===
Webmaster: ZonePlace=d1; dzial=wiadomosci; Stan delivery
Zone type:e-desktop<== ==>place:e1-desktop<===
Webmaster: ZonePlace=e1-desktop; dzial=wiadomosci; Stan delivery
Zone type:d<== ==>place:d2<===
Webmaster: ZonePlace=d2; dzial=wiadomosci; Stan delivery
Zone type:d<== ==>place:d3<===
Webmaster: ZonePlace=d3; dzial=wiadomosci; Stan delivery
Zone type:d<== ==>place:d4<===
Webmaster: ZonePlace=d4; dzial=wiadomosci; Stan delivery