Menu
Zone type:ab<== ==>place:ab<===
Webmaster: ZonePlace=ab; dzial=wiadomosci; Stan delivery
Compulsory Covid jabs for NHS workers could be axed after protests across UK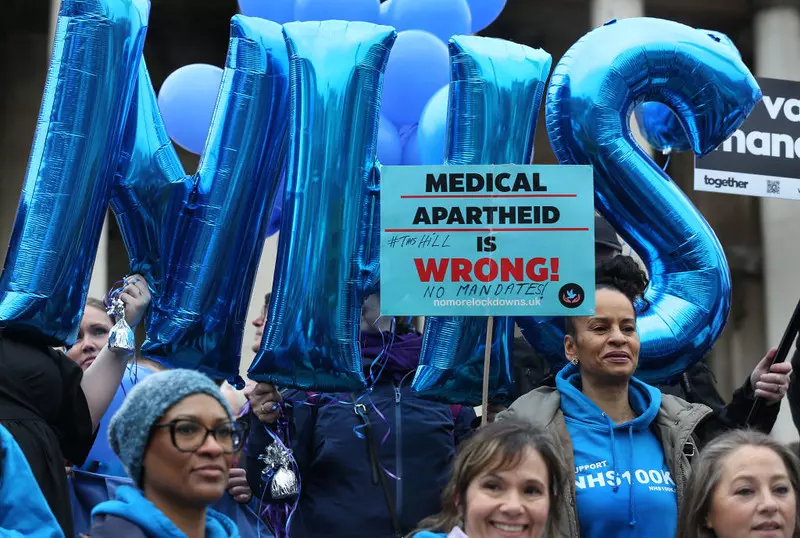 Mandatory Covid jabs for NHS staff could be pushed back by six months amid nationwide protests over the measure, it has been reported.
Zone type:video<== ==>place:video<===
Webmaster: ZonePlace=video; dzial=wiadomosci; Stan delivery
Zone type:e-mobile<== ==>place:e1-mobile<===
Webmaster: ZonePlace=e1-mobile; dzial=wiadomosci; Stan delivery
News available in Polish
Obowiązek szczepień dla pracowników służby zdrowia oficjalnie ma wejść w życie 1 kwietnia br. Do tego czasu wszyscy zatrudnieni przez NHS - począwszy od sprzątaczek a kończąc na lekarzach - muszą być zaszczepieni min. dwiema dawkami.
Media zwracają uwagę, iż tego rodzaju wymóg oznacza, że osoby niezaszczepione mają czas tylko do 3 lutego, aby przyjąć pierwsze szczepienie.
"Evening Standard" donosi w oparciu o rządowe źródła, że Boris Johnson "rozważa opóźnienie tego wymogu".
"The Telegraph" idzie o krok dalej i sugeruje, że premier planuje "przeczekać" temat obowiązkowych szczepień i nie wracać już do niego w przyszłości.
Powodem obu decyzji ma być zarówno seria wczorajszych protestów, jak również niezadowolenie grupy polityków z jego własnej partii. Według mediów, Boris Johnson nie chce zaryzykować pogarszania się nastrojów społecznych w kraju ani tym bardziej we własnym ugrupowaniu - zwłaszcza w kontekście niedawnej afery imprezowej.
Tysiące ludzi wyszło wczoraj na ulice Londynu, Birmingham i Manchesteru, by zaprotestować przeciwko przymusowym szczepieniom dla pracowników NHS. Demonstracje były częścią ogólnokrajowe kampanii na rzecz "wolności wyboru".
Czytaj więcej:
Pracownicy NHS demonstrowali przeciw obowiązkowi szczepień
AdsByGoogle - In-Feed slot=4906192224
Zone type:d<== ==>place:d1<===
Webmaster: ZonePlace=d1; dzial=wiadomosci; Stan delivery
Zone type:e-desktop<== ==>place:e1-desktop<===
Webmaster: ZonePlace=e1-desktop; dzial=wiadomosci; Stan delivery
Zone type:d<== ==>place:d2<===
Webmaster: ZonePlace=d2; dzial=wiadomosci; Stan delivery
Zone type:d<== ==>place:d3<===
Webmaster: ZonePlace=d3; dzial=wiadomosci; Stan delivery
Zone type:d<== ==>place:d4<===
Webmaster: ZonePlace=d4; dzial=wiadomosci; Stan delivery