Menu
Zone type:ab<== ==>place:ab<===
Webmaster: ZonePlace=ab; dzial=wiadomosci; Stan delivery
Cambridge beat Oxford in men's and women's 2021 Boat Race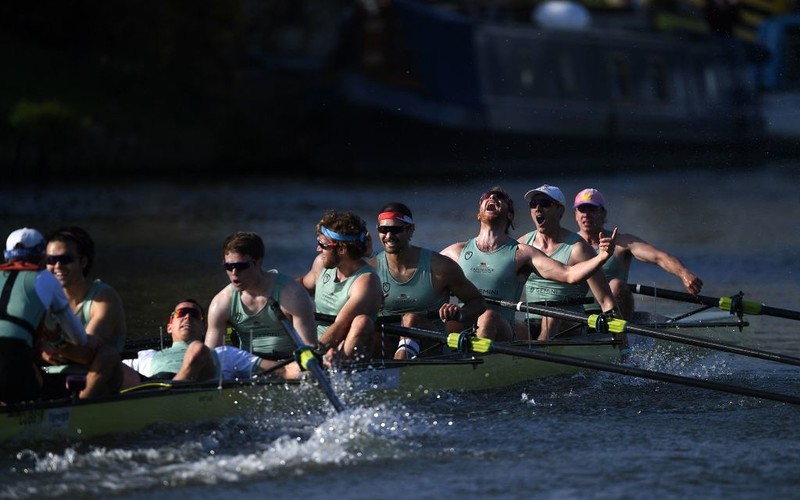 Cambridge claimed their third successive win - and fourth in the last five events - in the men's Boat Race.
Zone type:video<== ==>place:video<===
Webmaster: ZonePlace=video; dzial=wiadomosci; Stan delivery
Zone type:e-mobile<== ==>place:e1-mobile<===
Webmaster: ZonePlace=e1-mobile; dzial=wiadomosci; Stan delivery
News available in Polish
To trzeci z rzędu triumf Cambridge, a 85. w historii. Uniwersytet ten wywalczył dzisiaj dublet - nieco wcześniej zwyciężył także w kobiecych zmaganiach.
W tym roku po raz pierwszy w 166-letniej historii Boat Race sędziowała w nich kobieta. Wyróżniona w ten sposób została Sarah Winckless.
Ubiegłoroczna edycja została odwołana z powodu pandemii.
Wyścig zawsze cieszy się w Londynie ogromnym zainteresowaniem, na brzegach Tamizy gromadziło się czasami nawet pół miliona kibiców. Organizatorzy podkreślali, że w takich warunkach zapewnienie wszystkim bezpieczeństwa nie jest możliwe. Niedzielna rywalizacja w położonym około 100 km od stolicy Zjednoczonego Królestwa Ely odbywała się bez udziału publiczności.
Po raz drugi w historii słynne regaty odbyły się poza Londynem. W 1944 roku również miały one miejsce w Ely, gdzie swoją siedzibę ma klub wioślarski studentów z Cambridge.
AdsByGoogle - In-Feed slot=4906192224
Zone type:d<== ==>place:d1<===
Webmaster: ZonePlace=d1; dzial=wiadomosci; Stan delivery
Zone type:e-desktop<== ==>place:e1-desktop<===
Webmaster: ZonePlace=e1-desktop; dzial=wiadomosci; Stan delivery
Zone type:d<== ==>place:d2<===
Webmaster: ZonePlace=d2; dzial=wiadomosci; Stan delivery
Zone type:d<== ==>place:d3<===
Webmaster: ZonePlace=d3; dzial=wiadomosci; Stan delivery
Zone type:d<== ==>place:d4<===
Webmaster: ZonePlace=d4; dzial=wiadomosci; Stan delivery