Menu
Zone type:ab<== ==>place:ab<===
Webmaster: ZonePlace=ab; dzial=wiadomosci; Stan delivery
Bayern Munich drew in Leipzig. Bayer Leverkusen is the leader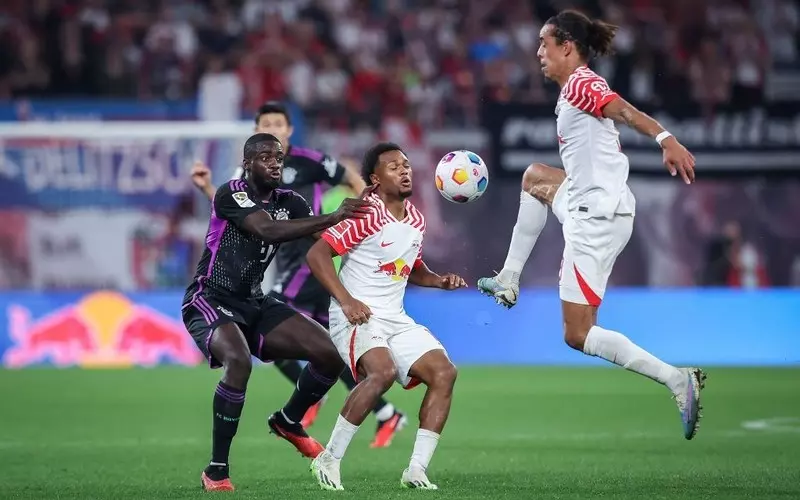 Bayern Munich drew away with RB Leipzig 2-2 in the most interesting match of the 6th round of the German top football league. Bayer Leverkusen took advantage of the Bavarians' stumble. 'Aptekar' defeated FSV Mainz away 3-0 and advanced to first place in the table.
Zone type:video<== ==>place:video<===
Webmaster: ZonePlace=video; dzial=wiadomosci; Stan delivery
Zone type:e-mobile<== ==>place:e1-mobile<===
Webmaster: ZonePlace=e1-mobile; dzial=wiadomosci; Stan delivery
News available in Polish
W Lipsku mecz świetnie zaczęli gospodarze, którzy po niespełna pół godzinie gry prowadzili 2:0. Na listę strzelców wpisali się Lois Openda i Castello Lukeba.
Bayern straty odrobił w drugiej połowie. W 57. minucie kontaktową bramkę z rzutu karnego zdobył Harry Kane, a remis gościom dał Leroy Sane w 70.
Bayer Leverkusen natomiast nie miał problemów w starciu z zamykającym tabelę FSV Mainz. Wygrał po samobójczym golu Seppa van den Berga oraz trafieniach Alejandro Grimaldo i Jonasa Hofmanna.
W czołówce tabeli jest bardzo ciasno. Bayer ma punkt przewagi nad VfB Stuttgart, które wygrało na wyjeździe z FC Koeln 2:0. Dwa punkty od lidera dzielą Bayern i Borussię Dortmund. BVB już w piątek pokonało na wyjeździe Hoffenheim 3:1.
Czytaj więcej:
Piłkarska LM: Bayern po raz 20. z rzędu zaczął od zwycięstwa
Borussia Dortmund na prowadzeniu
AdsByGoogle - In-Feed slot=4906192224
Zone type:d<== ==>place:d1<===
Webmaster: ZonePlace=d1; dzial=wiadomosci; Stan delivery
Zone type:e-desktop<== ==>place:e1-desktop<===
Webmaster: ZonePlace=e1-desktop; dzial=wiadomosci; Stan delivery
Zone type:d<== ==>place:d2<===
Webmaster: ZonePlace=d2; dzial=wiadomosci; Stan delivery
Zone type:d<== ==>place:d3<===
Webmaster: ZonePlace=d3; dzial=wiadomosci; Stan delivery
Zone type:d<== ==>place:d4<===
Webmaster: ZonePlace=d4; dzial=wiadomosci; Stan delivery