Menu
Zone type:ab<== ==>place:ab<===
Webmaster: ZonePlace=ab; dzial=wiadomosci; Stan delivery
ATP tournament in Vienna: Medvedev's triumph and promotion to third place in the ranking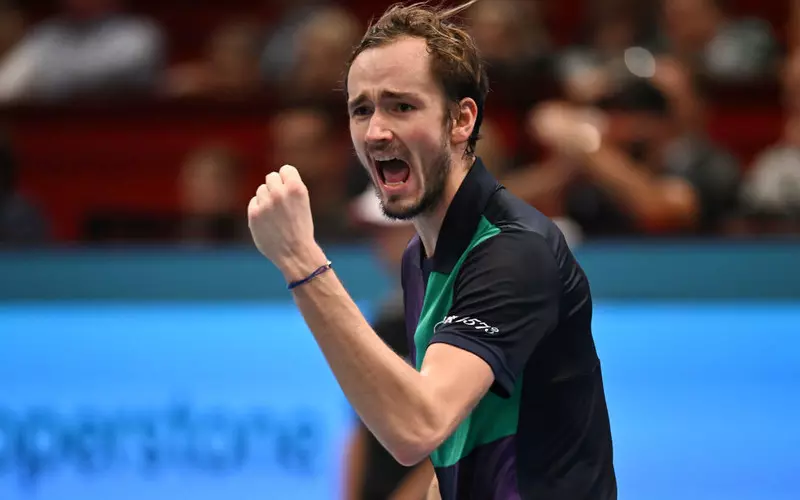 The highest-seeded Daniil Medvedev won the ATP indoor tournament in Vienna (prize pool of EUR 2.35 million). In the final, the Russian tennis player, who will be third in the world ranking from Monday, defeated Canadian Denis Shapovalov 4: 6, 6: 3, 6: 2. Hubert Hurkacz was eliminated in the quarter-finals.
Zone type:video<== ==>place:video<===
Webmaster: ZonePlace=video; dzial=wiadomosci; Stan delivery
Zone type:e-mobile<== ==>place:e1-mobile<===
Webmaster: ZonePlace=e1-mobile; dzial=wiadomosci; Stan delivery
News available in Polish
To 15. turniejowy triumf w karierze 26-letniego Miedwiediewa. Z młodszym o trzy lata Kanadyjczykiem zagrał po raz szósty i odniósł czwarte zwycięstwo (jednocześnie czwarte z rzędu).
Rosjanin po imprezie w Wiedniu ma również inne powody do satysfakcji. Dziś awansował z czwartego na trzecie miejsce w światowym rankingu. Na dodatek jest już pewny udziału w prestiżowym turnieju ATP Finals w Turynie, z udziałem ośmiu najlepszych tenisistów sezonu.
O występ we Włoszech wciąż walczy Hurkacz, ale to będzie trudne zadanie. Polski tenisista odpadł w ćwierćfinale w stolicy Austrii (był rozstawiony z "piątką"), przegrywając 4:6, 7:6 (7-2), 6:7 (5-7) z Chorwatem Borną Coricem, który z kolei w półfinale uznał wyższość w dwóch setach Shapovalova.
W Wiedniu wrocławianin wystąpił także w deblu razem z Brazylijczykiem Marcelo Melo. Odpadli w ćwierćfinale, natomiast w pierwszej rundzie zostali wyeliminowani Łukasz Kubot i Francuz Fabrice Martin.
Czytaj więcej:
Rankingi WTA i ATP: Świątek zdecydowaną liderką. Hurkacz nadal 11.
Turniej ATP w Wiedniu: Hurkacz odpadł w ćwierćfinale
AdsByGoogle - In-Feed slot=4906192224
Zone type:d<== ==>place:d1<===
Webmaster: ZonePlace=d1; dzial=wiadomosci; Stan delivery
Zone type:e-desktop<== ==>place:e1-desktop<===
Webmaster: ZonePlace=e1-desktop; dzial=wiadomosci; Stan delivery
Zone type:d<== ==>place:d2<===
Webmaster: ZonePlace=d2; dzial=wiadomosci; Stan delivery
Zone type:d<== ==>place:d3<===
Webmaster: ZonePlace=d3; dzial=wiadomosci; Stan delivery
Zone type:d<== ==>place:d4<===
Webmaster: ZonePlace=d4; dzial=wiadomosci; Stan delivery