Menu
Zone type:ab<== ==>place:ab<===
Webmaster: ZonePlace=ab; dzial=wiadomosci; Stan delivery
Wimbledon: Djokovic quickly advances to third round, Ruud loses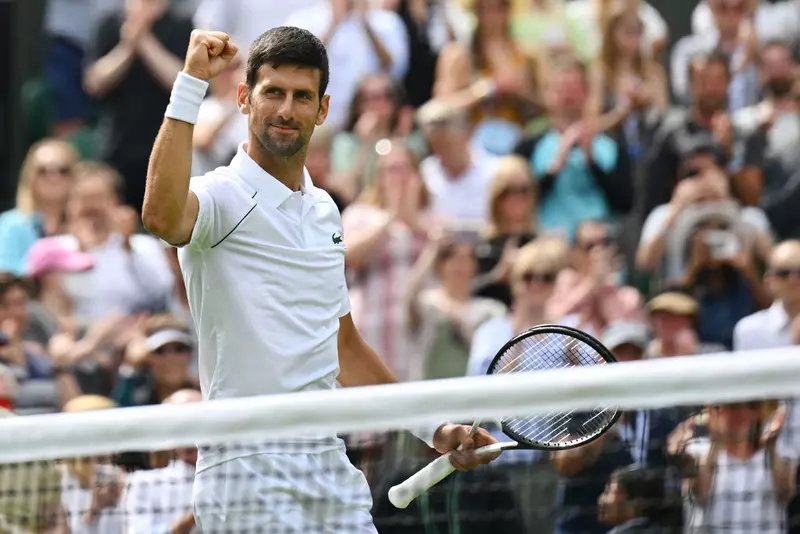 Defending champion and top seed Novak Djokovic advanced to the third round of Wimbledon. The Serbian tennis player beat Australian Thanasi Kokkinakis 6:1, 6:4, 6:2, while Norwegian Casper Ruud, playing with a three-setter, dropped out unexpectedly.
Zone type:video<== ==>place:video<===
Webmaster: ZonePlace=video; dzial=wiadomosci; Stan delivery
Zone type:e-mobile<== ==>place:e1-mobile<===
Webmaster: ZonePlace=e1-mobile; dzial=wiadomosci; Stan delivery
News available in Polish
Kokkinakis w pierwszej rundzie wyeliminował Kamila Majchrzaka. Zajmujący w światowym rankingu 79. miejsce Australijczyk w starciu z Djokovicem nie miał jednak wiele do powiedzenia. Spotkanie trwało nieco ponad dwie godziny.
Kolejnym rywalem Serba będzie jego rodak, rozstawiony z numerem 25. Miomir Kecmanovic.
Natomiast Ruud, finalista wielkoszlemowego French Open w Paryżu, na trawiastym korcie w Londynie uległ w środę Francuzowi Ugo Humbertowi, który na liście ATP plasuje się dopiero na 112. pozycji.
Początek spotkania Ruuda z Humbertem został opóźniony z powodu deszczu o 90 minut, jednak Francuz i tak nie zdołał się na nie odpowiednio spakować. Na korcie pojawił się z wielką torbą, ale kiedy sędzia zarządził rozgrzewkę, zakomunikował, że... zapomniał rakiet. Kilka minut później osoba z jego sztabu przyniosła trzy sztuki.
Może z powodu tego zamieszania Humbert przegrał pierwszego seta 3:6, ale w kolejnych partiach był już lepszy, zwyciężając w nich 6:2, 7:5, 6:4.
Czytaj więcej:
Wimbledon: Hurkacz odpadł w pierwszej rundzie po pięciosetowym boju
Wimbledon: Iga Świątek awansowała do drugiej rundy
Wimbledon: Porażka Sereny Williams w 1. rundzie
AdsByGoogle - In-Feed slot=4906192224
Zone type:d<== ==>place:d1<===
Webmaster: ZonePlace=d1; dzial=wiadomosci; Stan delivery
Zone type:e-desktop<== ==>place:e1-desktop<===
Webmaster: ZonePlace=e1-desktop; dzial=wiadomosci; Stan delivery
Zone type:d<== ==>place:d2<===
Webmaster: ZonePlace=d2; dzial=wiadomosci; Stan delivery
Zone type:d<== ==>place:d3<===
Webmaster: ZonePlace=d3; dzial=wiadomosci; Stan delivery
Zone type:d<== ==>place:d4<===
Webmaster: ZonePlace=d4; dzial=wiadomosci; Stan delivery