Menu
Zone type:ab<== ==>place:ab<===
Webmaster: ZonePlace=ab; dzial=wiadomosci; Stan delivery
Sycamore Gap: Boy, 16, arrested after Hadrian's Wall tree felled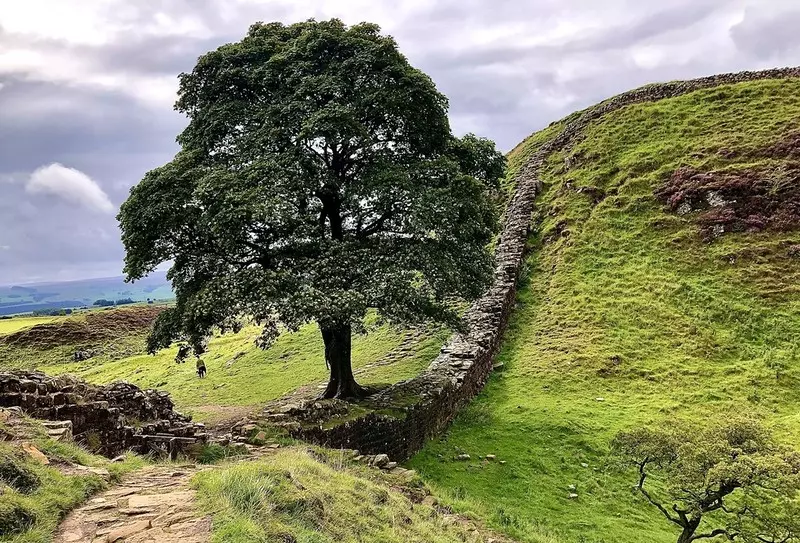 A 16-year-old boy has been arrested in connection with the felling of one of the UK's most celebrated trees. The landmark at Sycamore Gap, beside Hadrian's Wall in Northumberland, was cut down overnight.
Zone type:video<== ==>place:video<===
Webmaster: ZonePlace=video; dzial=wiadomosci; Stan delivery
Zone type:e-mobile<== ==>place:e1-mobile<===
Webmaster: ZonePlace=e1-mobile; dzial=wiadomosci; Stan delivery
News available in Polish
Drzewo zostało ścięte w nocy ze środy na czwartek przy użyciu piły. Jak sugerują media, wszystko wskazuje na to, że był to bezsensowny, niczym nieuzasadniony akt wandalizmu.
Klon, z racji "udziału" w filmie oraz teledysku do towarzyszącego mu utworu Bryana Adamsa "(Everything I Do) I Do It for You", był nazywany "drzewem Robin Hooda". To oraz malowniczy teren, na którym rósł, zapewniło mu status atrakcji turystycznej.
Był jednym z najczęściej fotografowanych drzew w Wielkiej Brytanii, a w 2016 r. został w plebiscycie wybrany drzewem roku w tym kraju.
"Była to światowej sławy atrakcja, a dzisiejsze wydarzenia wywołały znaczny szok, smutek i gniew w całej lokalnej społeczności i poza nią. Apeluję do opinii publicznej o informacje, które mogą nam pomóc - jeśli widziałeś lub słyszałeś coś podejrzanego, co może nas zainteresować, daj nam znać" - oświadczył nadinspektor Kevin Waring z policji hrabstwa Northumberland.
Oburzeni tym występkiem są nie tylko mieszkańcy okolic, ale także fotografowie, dla których drzewo tworzyło magiczną atmosferę na zdjęciach, przypominając o pięknie przyrody i przemijaniu.
AdsByGoogle - In-Feed slot=4906192224
Zone type:d<== ==>place:d1<===
Webmaster: ZonePlace=d1; dzial=wiadomosci; Stan delivery
Zone type:e-desktop<== ==>place:e1-desktop<===
Webmaster: ZonePlace=e1-desktop; dzial=wiadomosci; Stan delivery
Zone type:d<== ==>place:d2<===
Webmaster: ZonePlace=d2; dzial=wiadomosci; Stan delivery
Zone type:d<== ==>place:d3<===
Webmaster: ZonePlace=d3; dzial=wiadomosci; Stan delivery
Zone type:d<== ==>place:d4<===
Webmaster: ZonePlace=d4; dzial=wiadomosci; Stan delivery