Menu
Zone type:ab<== ==>place:ab<===
Webmaster: ZonePlace=ab; dzial=wiadomosci; Stan delivery
Spanish league: Lewandowski returns with a goal, Barcelona win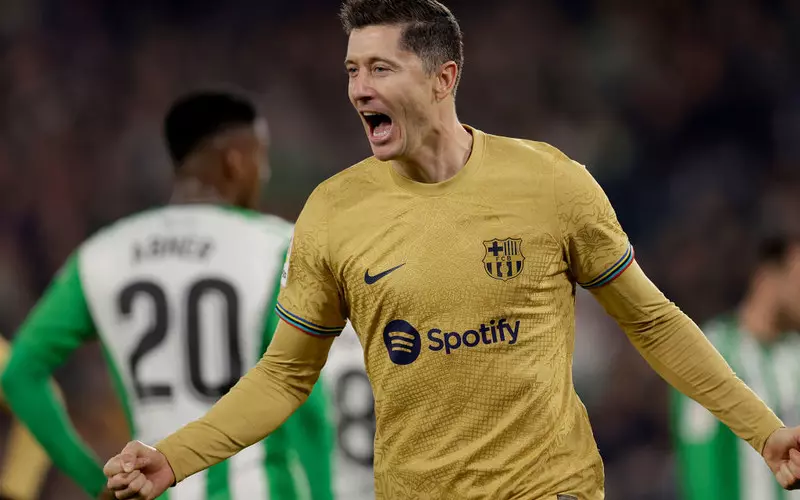 Returning after a three-match suspension for disciplinary reasons, Robert Lewandowski scored for Barcelona in an overdue match of the Spanish football top flight. The 'Pride of Catalonia' defeated Betis Sevilla 2-1 on the road, taking the fourth straight win.
Zone type:video<== ==>place:video<===
Webmaster: ZonePlace=video; dzial=wiadomosci; Stan delivery
Zone type:e-mobile<== ==>place:e1-mobile<===
Webmaster: ZonePlace=e1-mobile; dzial=wiadomosci; Stan delivery
News available in Polish
Lewandowski zdobył gola w 80. minucie po tym, jak piłka trafiła do niego w polu karnym po rzucie rożnym. Z 14 golami Polak prowadzi w ligowej klasyfikacji strzelców.
Wcześniej prowadzenie gościom dał Brazylijczyk Raphinha (65.), który skierował piłkę do pustej bramki po podaniu Alejandro Balde z lewego skrzydła. Hiszpan przedtem popisał się kilkudziesięciometrowym rajdem. W 85. minucie swojego bramkarza pokonał Francuz Jules Kounde, zmniejszając stratę Betisu.
Pod nieobecność Lewandowskiego "Duma Katalonii" pokonała po 1:0 ekipy Atletico Madryt, Getafe i Girony. Po 19 meczach ma 50 punktów - o osiem więcej od wicelidera Realu Madryt, który rozegrał o jedno spotkanie mniej. Dziś "Królewscy" podejmą Valencię.
Czytaj więcej:
Liga hiszpańska: Trzecie z rzędu zwycięstwo Barcelony jedną bramką
Liga hiszpańska: Remis Realu, rośnie przewaga Barcelony
AdsByGoogle - In-Feed slot=4906192224
Zone type:d<== ==>place:d1<===
Webmaster: ZonePlace=d1; dzial=wiadomosci; Stan delivery
Zone type:e-desktop<== ==>place:e1-desktop<===
Webmaster: ZonePlace=e1-desktop; dzial=wiadomosci; Stan delivery
Zone type:d<== ==>place:d2<===
Webmaster: ZonePlace=d2; dzial=wiadomosci; Stan delivery
Zone type:d<== ==>place:d3<===
Webmaster: ZonePlace=d3; dzial=wiadomosci; Stan delivery
Zone type:d<== ==>place:d4<===
Webmaster: ZonePlace=d4; dzial=wiadomosci; Stan delivery