Menu
Zone type:ab<== ==>place:ab<===
Webmaster: ZonePlace=ab; dzial=wiadomosci; Stan delivery
Poland set for revenge against Slovenia in the semis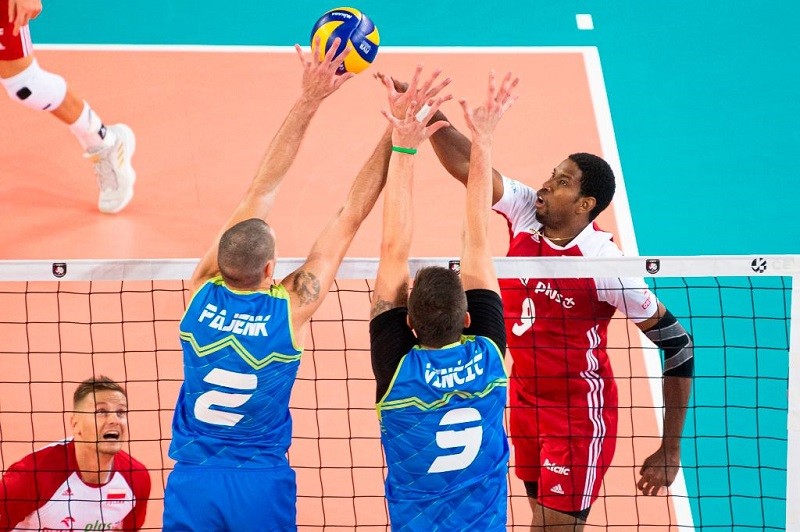 Two years after their paths crossed in the semifinals of the CEV EuroVolley 2019 Men, Poland and Slovenia are set to meet again in the same stage at the 2021 edition of the tournament, this time in the Polish city of Katowice, on Saturday.
Zone type:video<== ==>place:video<===
Webmaster: ZonePlace=video; dzial=wiadomosci; Stan delivery
Zone type:e-mobile<== ==>place:e1-mobile<===
Webmaster: ZonePlace=e1-mobile; dzial=wiadomosci; Stan delivery
News available in Polish
Wcześniej w Ostrawie Włochy pokonały Niemcy 3:0 (25:13, 25:18, 25:19) i o finał powalczą z broniącą tytułu Serbią.
Oba półfinały odbędą się w sobotę w Katowicach. Polska zagra ze Słowenią o godz. 17:30 czasu polskiego (16:30 GMT).
Czesi, którzy w poniedziałek w 1/8 finału sprawili największą niespodziankę turnieju, eliminując mistrzów olimpijskich z Tokio Francuzów (3:0), tym razem nie sprostali wyżej notowanym Słoweńcom. Tylko w trzecim secie stawili im większy opór. W końcówce prowadzili 23:21, ale trzy kolejne piłki przegrali i nie zdołali już odrobić strat. W ostatniej akcji Lukas Vasina został zatrzymany przez słoweński blok.
Dwa lata temu w poprzednich mistrzostwach Europy Słowenia również zmierzyła się z Polską w półfinale, wygrywając w Lublanie 3:1.
Czytaj więcej:
Tokio 2020: Heynen wyjaśnił, dlaczego Polacy przegrali z Francją
ME siatkarzy: Koncert biało-czerwonych! Finlandia rozbita
Wielki mecz Polaków w ME! Rosja była bez szans
AdsByGoogle - In-Feed slot=4906192224
Zone type:d<== ==>place:d1<===
Webmaster: ZonePlace=d1; dzial=wiadomosci; Stan delivery
Zone type:e-desktop<== ==>place:e1-desktop<===
Webmaster: ZonePlace=e1-desktop; dzial=wiadomosci; Stan delivery
Zone type:d<== ==>place:d2<===
Webmaster: ZonePlace=d2; dzial=wiadomosci; Stan delivery
Zone type:d<== ==>place:d3<===
Webmaster: ZonePlace=d3; dzial=wiadomosci; Stan delivery
Zone type:d<== ==>place:d4<===
Webmaster: ZonePlace=d4; dzial=wiadomosci; Stan delivery