Menu
Zone type:ab<== ==>place:ab<===
Webmaster: ZonePlace=ab; dzial=wiadomosci; Stan delivery
Mayweather defeated Asakura and made fortune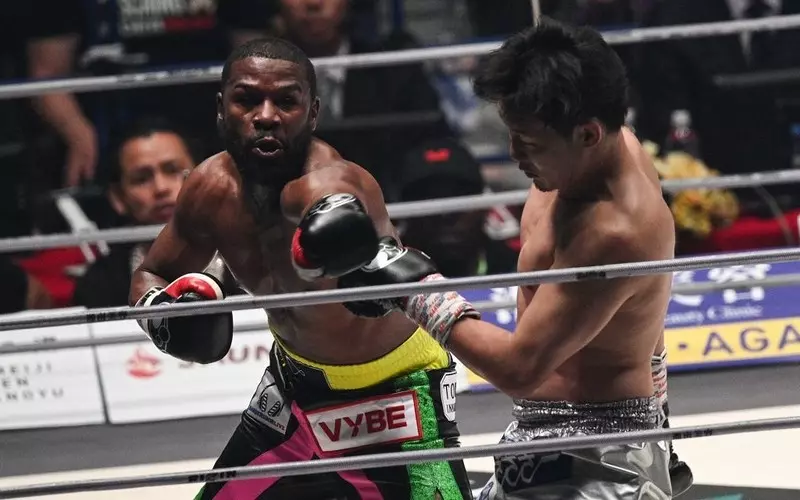 Former world boxing champion in welterweight division Floyd Mayweather defeated Japanese MMA fighter Mikuru Asakura by knockout in the second round in a show fight in Tokyo. According to the media, the American is to receive a wage of $ 200 million.
Zone type:video<== ==>place:video<===
Webmaster: ZonePlace=video; dzial=wiadomosci; Stan delivery
Zone type:e-mobile<== ==>place:e1-mobile<===
Webmaster: ZonePlace=e1-mobile; dzial=wiadomosci; Stan delivery
News available in Polish
45-letni Mayweather karierę zakończył w 2017 roku, ale co jakiś czas toczy pojedynki pokazowe, nie kryjąc motywacji finansowej. Do Japonii powrócił po trzyletniej przerwie.
"Łatwy przeciwnik, łatwe pieniądze" - mówił w czwartek przed starciem z Asakurą.
Młodszy o 15 lat Asakura jest gwiazdą MMA i popularnym youtuberem. Ceny biletów na miejsca wokół ringu sprzedawano po 1 mln jenów (7 tys. dolarów), a na widowni zasiedli m.in. słynny filipiński pięściarz Manny Pacquiao, który przygotowywał Asakurę do walki, a także tenisistka Naomi Osaka. Starcie można było też obejrzeć w płatnej telewizji.
Mayweather obecnie negocjuje pojedynek z inną gwiazdą MMA - Irlandczykiem Conorem McGregorem, którego znokautował w swojej ostatniej oficjalnej walce w 2017 roku.
AdsByGoogle - In-Feed slot=4906192224
Zone type:d<== ==>place:d1<===
Webmaster: ZonePlace=d1; dzial=wiadomosci; Stan delivery
Zone type:e-desktop<== ==>place:e1-desktop<===
Webmaster: ZonePlace=e1-desktop; dzial=wiadomosci; Stan delivery
Zone type:d<== ==>place:d2<===
Webmaster: ZonePlace=d2; dzial=wiadomosci; Stan delivery
Zone type:d<== ==>place:d3<===
Webmaster: ZonePlace=d3; dzial=wiadomosci; Stan delivery
Zone type:d<== ==>place:d4<===
Webmaster: ZonePlace=d4; dzial=wiadomosci; Stan delivery