Menu
Zone type:ab<== ==>place:ab<===
Webmaster: ZonePlace=ab; dzial=wiadomosci; Stan delivery
World Cup 2022: Argentina won, Mexico lost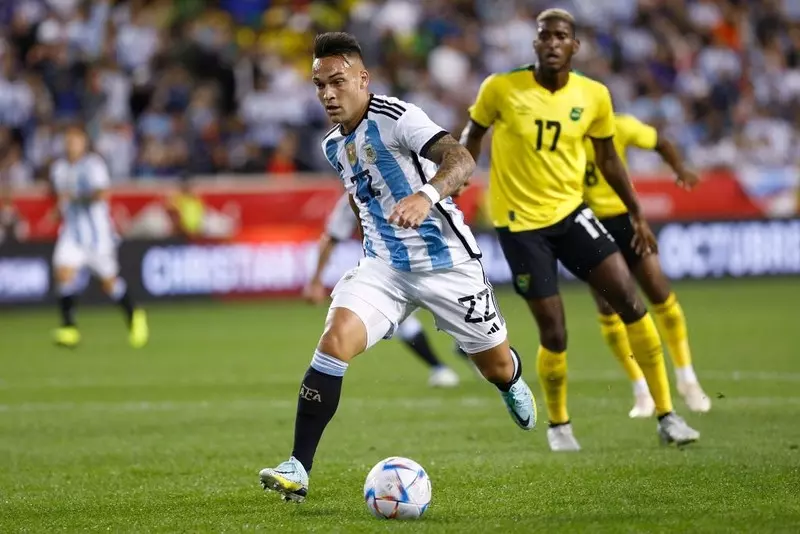 The players from Argentina and Mexico, Poles' group rivals in the World Cup in Qatar, played friendly matches in the United States yesterday. The Argentinians beat Jamaica 3-0, while the Mexicans lost to Colombia 2: 3.
Zone type:video<== ==>place:video<===
Webmaster: ZonePlace=video; dzial=wiadomosci; Stan delivery
Zone type:e-mobile<== ==>place:e1-mobile<===
Webmaster: ZonePlace=e1-mobile; dzial=wiadomosci; Stan delivery
News available in Polish
W Harrison w stanie New Jersey setne zwycięstwo w barwach "Albicelestes" odniósł Lionel Messi. Lekko przeziębiony, mecz rozpoczął na ławce rezerwowych, a zastąpił go Julio Alvarez, który w 13. minucie zdobył pierwszą bramkę. Messi pojawił się na boisku w 55. minucie i w końcówce strzelił dwa gole (87, 89).
Argentyna nie poniosła porażki w 35 kolejnych spotkaniach. Brakuje jej tylko dwóch do wyrównania rekordu reprezentacji Włoch, niepokonanej od września 2018 do października 2021 roku.
W Santa Clara (Kalifornia) Meksykanie ulegli Kolumbii 2:3, choć do przerwy prowadzili 2:0 po bramkach Alexisa Vegi (6-karny) i Gerardo Arteagi (29). W drugiej połowie dwukrotnie trafił do siatki Luis Sinisterra (49, 52), a wynik ustalił Wilmar Barrios (68).
Wczoraj towarzysko grał również inny przeciwnik biało-czerwonych - Arabia Saudyjska, remisując w hiszpańskiej Murcji z USA 0:0.
Meksykanie będą pierwszymi przeciwnikami Polaków w mistrzostwach świata w Katarze. Mecz tych drużyn zaplanowano na 22 listopada.
Czytaj więcej:
Liga Narodów: Walia pokonana. Polska zostaje w elitarnej Dywizji A
Liga Narodów: Final Four nie dla Węgrów. Włosi wygrali w Budapeszcie
AdsByGoogle - In-Feed slot=4906192224
Zone type:d<== ==>place:d1<===
Webmaster: ZonePlace=d1; dzial=wiadomosci; Stan delivery
Zone type:e-desktop<== ==>place:e1-desktop<===
Webmaster: ZonePlace=e1-desktop; dzial=wiadomosci; Stan delivery
Zone type:d<== ==>place:d2<===
Webmaster: ZonePlace=d2; dzial=wiadomosci; Stan delivery
Zone type:d<== ==>place:d3<===
Webmaster: ZonePlace=d3; dzial=wiadomosci; Stan delivery
Zone type:d<== ==>place:d4<===
Webmaster: ZonePlace=d4; dzial=wiadomosci; Stan delivery