Menu
Zone type:ab<== ==>place:ab<===
Webmaster: ZonePlace=ab; dzial=wiadomosci; Stan delivery
LeBron James, Naomi Osaka among SI Sportspersons of the Year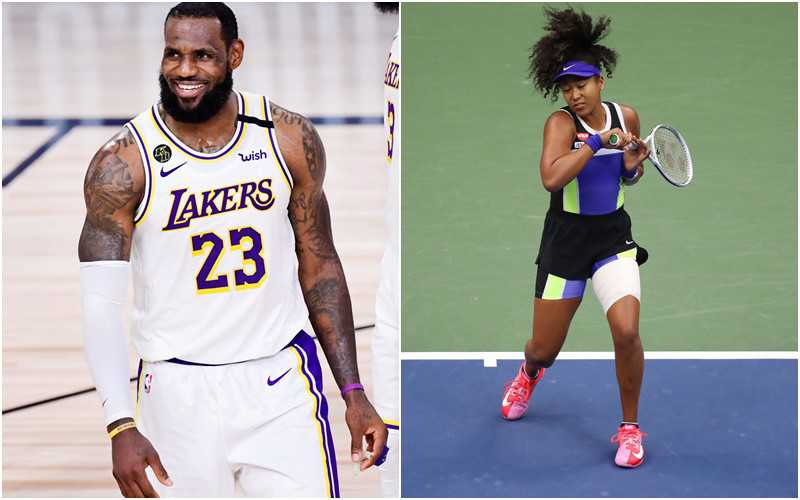 NBA champion LeBron James, Super Bowl winner Patrick Mahomes and Japan's Naomi Osaka were among five athletes honoured on Sunday (Dec 6) by Sports Illustrated magazine for their off-field activism.
Zone type:video<== ==>place:video<===
Webmaster: ZonePlace=video; dzial=wiadomosci; Stan delivery
Zone type:e-mobile<== ==>place:e1-mobile<===
Webmaster: ZonePlace=e1-mobile; dzial=wiadomosci; Stan delivery
News available in Polish
Grupa wyróżnionych została nazwana "Sportowcy Aktywiści" - w nawiązaniu do zaangażowania laureatów nie tylko w rywalizację sportową na najwyższym, mistrzowskim poziomie, ale i w sprawy społeczno-polityczne.
Oprócz Jamesa i Osaki znaleźli się w tym gronie koszykarka reprezentacji i WNBA Breanna Stewart (mistrzyni świata 2014 i 2018, mistrzyni WNBA 2018 i 2020), która do wielkiej formy powróciła po zerwaniu ścięgna Achillesa w finale Euroligi w 2019 r., oraz zawodnicy ligi futbolu amerykańskiego NFL Patrick Mahomes II, wybrany MVP Super Bowl 2020, i Laurent Duvernay-Tardif.
Ten drugi, Kanadyjczyk, zrezygnował z występów w sezonie 2020/21 i wrócił do Montrealu, by podczas pandemii Covid-19 pracować w jednym z ośrodków zdrowia jako sanitariusz.
LeBron James wyróżnienie otrzymał po raz trzeci w historii - poprzednio w 2012 i 2016 r. "Sportsperson of the Year" przyznawane są przez magazyn od 1954 r. Pierwszym uhonorowanym był brytyjski lekkoatleta Roger Bannister.
Czytaj więcej:
Naomi Osaka mistrzynią US Open
Los Angeles Lakers nowymi mistrzami NBA
AdsByGoogle - In-Feed slot=4906192224
Zone type:d<== ==>place:d1<===
Webmaster: ZonePlace=d1; dzial=wiadomosci; Stan delivery
Zone type:e-desktop<== ==>place:e1-desktop<===
Webmaster: ZonePlace=e1-desktop; dzial=wiadomosci; Stan delivery
Zone type:d<== ==>place:d2<===
Webmaster: ZonePlace=d2; dzial=wiadomosci; Stan delivery
Zone type:d<== ==>place:d3<===
Webmaster: ZonePlace=d3; dzial=wiadomosci; Stan delivery
Zone type:d<== ==>place:d4<===
Webmaster: ZonePlace=d4; dzial=wiadomosci; Stan delivery