Menu
Zone type:ab<== ==>place:ab<===
Webmaster: ZonePlace=ab; dzial=wiadomosci; Stan delivery
Italy: Regional authorities are preparing to open premises, cinemas, theaters and gyms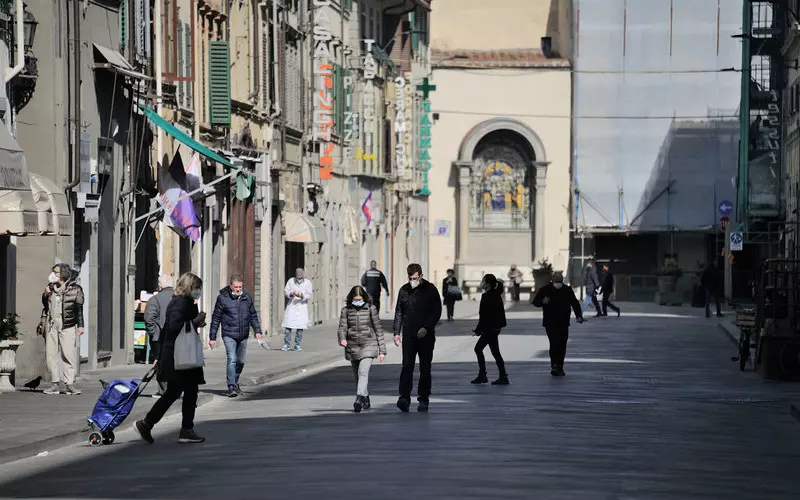 The authorities of Italian regions, insisting on unfreezing the sectors blocked due to restrictions, have developed rules for the opening of bars and restaurants, cinemas, theaters and gyms in the sanitary regime. This gradual process will begin in April / May.
Zone type:video<== ==>place:video<===
Webmaster: ZonePlace=video; dzial=wiadomosci; Stan delivery
Zone type:e-mobile<== ==>place:e1-mobile<===
Webmaster: ZonePlace=e1-mobile; dzial=wiadomosci; Stan delivery
News available in Polish
"Pozwoli to krajowi, przy zachowaniu reguły najwyższej ostrożności, wejść na drogę powrotu do normalnego funkcjonowania" - oświadczył szef Konferencji Regionów Massimo Fedriga.
Szczegóły i terminarz zasad łagodzenia obostrzeń będą przedmiotem obrad rządu Mario Draghiego w piątek.
Czwartek jest kolejnym dniem stabilizacji sytuacji epidemicznej w kraju, choć bilans zmarłych pozostaje wysoki. Ministerstwo Zdrowia poinformowało, że minionej doby zarejestrowano 380 zgonów na Covid-19 i 16 974 następnych zakażeń koronawirusem.
Pozytywny wynik dało ponad 5 procent z 319 tysięcy testów.
Od początku epidemii w lutym zeszłego roku zmarło 115 937 osób.
Zakażenie potwierdzono dotąd u ponad 3,8 miliona osób, z których wyleczonych jest 3,2 mln.
Szacuje się, że obecnie zakażonych jest 510 tysięcy osób.
W szpitalach zwolniły się 73 łóżka na intensywnej terapii i ponad 780 na zwykłych oddziałach covidowych.
AdsByGoogle - In-Feed slot=4906192224
Zone type:d<== ==>place:d1<===
Webmaster: ZonePlace=d1; dzial=wiadomosci; Stan delivery
Zone type:e-desktop<== ==>place:e1-desktop<===
Webmaster: ZonePlace=e1-desktop; dzial=wiadomosci; Stan delivery
Zone type:d<== ==>place:d2<===
Webmaster: ZonePlace=d2; dzial=wiadomosci; Stan delivery
Zone type:d<== ==>place:d3<===
Webmaster: ZonePlace=d3; dzial=wiadomosci; Stan delivery
Zone type:d<== ==>place:d4<===
Webmaster: ZonePlace=d4; dzial=wiadomosci; Stan delivery