Menu
Zone type:ab<== ==>place:ab<===
Webmaster: ZonePlace=ab; dzial=wiadomosci; Stan delivery
Spain: At least 31 people died in an attempted intrusion into Melilla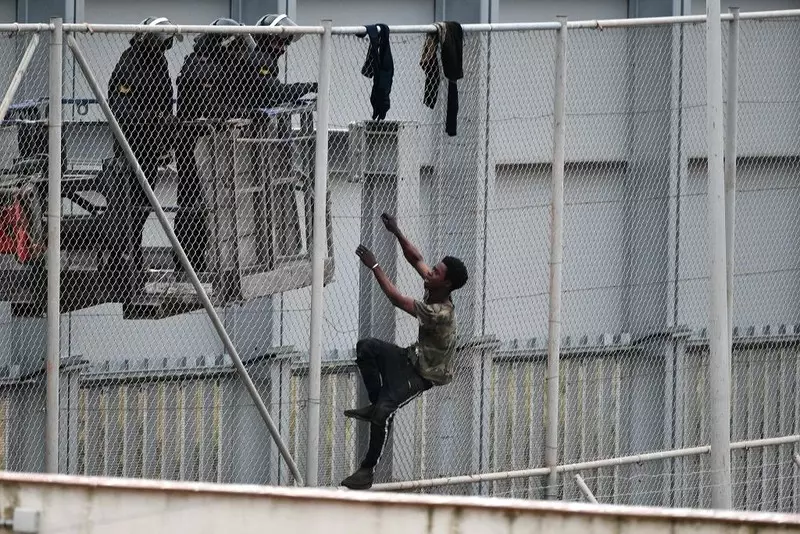 At least 31 people died during Friday's attempted intrusion by illegal immigrants into Melilla, a Spanish enclave adjacent to Morocco, reported the Madrid daily La Razon, citing sources in health facilities in the Moroccan province of Nador.
Zone type:video<== ==>place:video<===
Webmaster: ZonePlace=video; dzial=wiadomosci; Stan delivery
Zone type:e-mobile<== ==>place:e1-mobile<===
Webmaster: ZonePlace=e1-mobile; dzial=wiadomosci; Stan delivery
News available in Polish
Gazeta przypomina, że rząd Maroka informuje jedynie o 18 ofiarach śmiertelnych, twierdząc, że zabici to członkowie grupy około 1 500 forsujących granicę obywateli państw Afryki subsaharyjskiej. Zaprzeczono jakoby wśród ofiar byli funkcjonariusze marokańskich sił bezpieczeństwa.
Wyższą niż rząd liczbę ofiar podają marokańskie i hiszpańskie organizacje praw człowieka. Twierdzą, że potwierdzono dotychczas 27-29 zgonów.
Tymczasem z opublikowanego w internecie przez Marokańskie Stowarzyszenie Praw Człowieka (AMDH) filmu wynika, że zabitych podczas próby wtargnięcia do Melilli może być nawet ponad 50 osób. Na nagraniu widać dziesiątki ciał afrykańskich imigrantów złożone w jednym miejscu i otoczone przez marokańską policję.
Według hiszpańskich mediów, podczas próby wdarcia się do Melilli imigranci używali pałek, noży, a także polewali policjantów kwasem. Część ofiar, jak twierdzi m.in. dziennik "El Pais", miała spaść z jednego ze zboczy w pobliżu ogrodzenia granicznego z Melillą.
Czytaj więcej:
Hiszpania: Opozycja domaga się betonowych murów w enklawach. Płot buduje też Maroko
AdsByGoogle - In-Feed slot=4906192224
Zone type:d<== ==>place:d1<===
Webmaster: ZonePlace=d1; dzial=wiadomosci; Stan delivery
Zone type:e-desktop<== ==>place:e1-desktop<===
Webmaster: ZonePlace=e1-desktop; dzial=wiadomosci; Stan delivery
Zone type:d<== ==>place:d2<===
Webmaster: ZonePlace=d2; dzial=wiadomosci; Stan delivery
Zone type:d<== ==>place:d3<===
Webmaster: ZonePlace=d3; dzial=wiadomosci; Stan delivery
Zone type:d<== ==>place:d4<===
Webmaster: ZonePlace=d4; dzial=wiadomosci; Stan delivery