Menu
Zone type:ab<== ==>place:ab<===
Webmaster: ZonePlace=ab; dzial=wiadomosci; Stan delivery
Federer has been the world's highest-paid tennis player in the last 12 months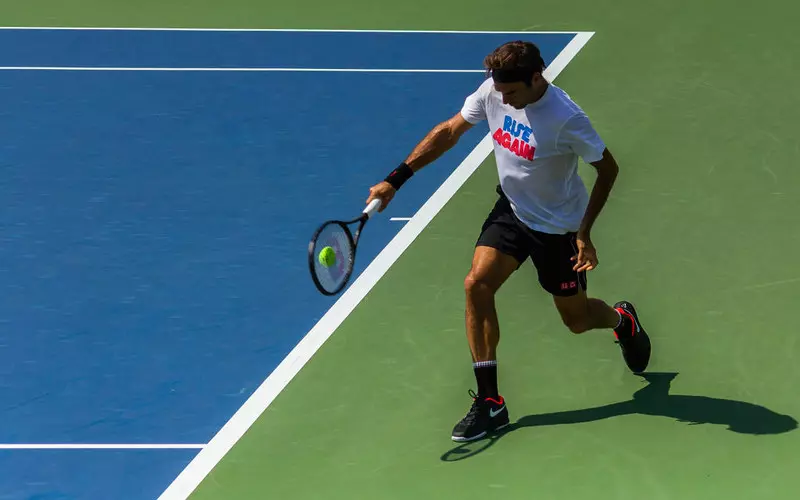 Roger Federer is the world's highest-earning tennis player in the last 12 months, informed Forbes magazine. The famous Swiss, who only played in five tournaments due to health problems during this period, added $ 90.6 million to his fortune.
Zone type:video<== ==>place:video<===
Webmaster: ZonePlace=video; dzial=wiadomosci; Stan delivery
Zone type:e-mobile<== ==>place:e1-mobile<===
Webmaster: ZonePlace=e1-mobile; dzial=wiadomosci; Stan delivery
News available in Polish
Jak zaznaczono w raporcie, Federer niespełna 1 mln USD zarobił przez ostatni rok za sprawą gry w tenisa, a zdecydowana większość jego dochodów pochodzi z innych źródeł.
40-letni Szwajcar ze względu na problemy z kolanem i związane z nimi operacje opuścił niemal cały poprzedni sezon (zagrał tylko na początku, w Australian Open), a obecny też już przedwcześnie zakończył. W tym roku między marcem a lipcem wystąpił w pięciu turniejach.
Drugie miejsce w tym zestawieniu zajmuje Japonka Naomi Osaka, która zarobiła 60,1 mln brutto, z czego ponad 90 procent tej sumy poza kortem. Trzecia jest Amerykanka Serena Williams - 41,8 mln, a czołową piątkę uzupełniają Serb Novak Djokovic i Hiszpan Rafael Nadal z - odpowiednio - 38 i 27 mln. Williams i Nadal zrezygnowali ze startu w trwającym obecnie wielkoszlemowym US Open.
Jak podano w raporcie "Forbes", czołowa 10 najlepiej zarabiających tenisistów łącznie uzbierała przez ostatnie 12 miesięcy 320 mln dol. To suma o 6 procent mniejsza w porównaniu z tą z poprzedniego roku.
"W znacznym stopniu zdecydowało o tym odwołanie z powodu pandemii COVID-19 turniejów i lukratywnych meczów pokazowych" - oceniono w analizie zestawienia.
Zwrócono przy tym uwagę, że czołowych 10 zawodników zarobiło poza kortem w sumie 281 mln, czyli o 4 procent więcej niż w ciągu poprzednich 12 miesięcy.
Czytaj więcej:
Federer nie wystąpi w turniejach ATP w Toronto i Cincinnati
Federer znów będzie operowany. Nie zagra przez wiele miesięcy
Prakash Amritraj: Problemy Federera poważniejsze niż Nadala
AdsByGoogle - In-Feed slot=4906192224
Zone type:d<== ==>place:d1<===
Webmaster: ZonePlace=d1; dzial=wiadomosci; Stan delivery
Zone type:e-desktop<== ==>place:e1-desktop<===
Webmaster: ZonePlace=e1-desktop; dzial=wiadomosci; Stan delivery
Zone type:d<== ==>place:d2<===
Webmaster: ZonePlace=d2; dzial=wiadomosci; Stan delivery
Zone type:d<== ==>place:d3<===
Webmaster: ZonePlace=d3; dzial=wiadomosci; Stan delivery
Zone type:d<== ==>place:d4<===
Webmaster: ZonePlace=d4; dzial=wiadomosci; Stan delivery