Menu
Zone type:ab<== ==>place:ab<===
Webmaster: ZonePlace=ab; dzial=wiadomosci; Stan delivery
Euro 2020: Poland's more difficult situation after Sweden's victory with Slovakia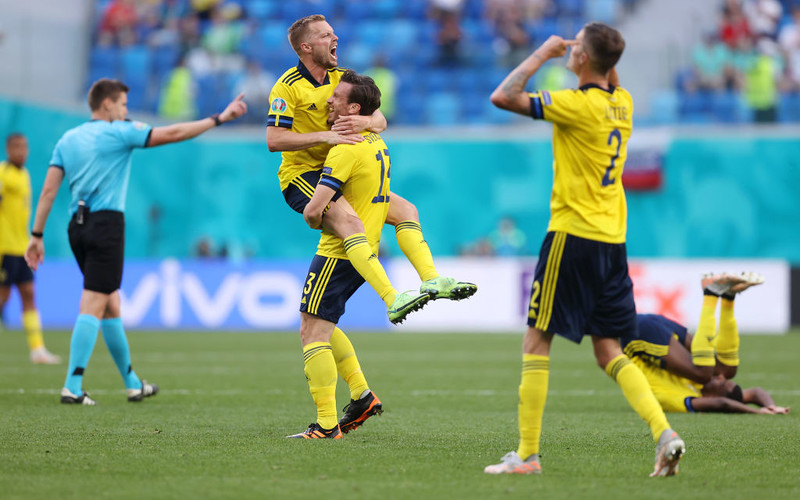 Sweden defeated Slovakia 1-0 in St. Petersburg in the Group E match of the European Football Championship. This result means that the white-and-reds cannot lose against Spain in Seville on Saturday - otherwise they will lose their chance to advance to the 1/8 finals.
Zone type:video<== ==>place:video<===
Webmaster: ZonePlace=video; dzial=wiadomosci; Stan delivery
Zone type:e-mobile<== ==>place:e1-mobile<===
Webmaster: ZonePlace=e1-mobile; dzial=wiadomosci; Stan delivery
News available in Polish
Bramkę dla Szwedów zdobył w 77. minucie z rzutu karnego Emil Forsberg.
Reprezentacja "Trzech Koron" ma po dwóch meczach grupy E cztery punkty (wcześniej zremisowała z Hiszpanią 0:0), a Słowacja, która w miniony poniedziałek pokonała Polskę 2:1, zgromadziła dotychczas trzy punkty.
Jeżeli biało-czerwoni przegrają jutro z Hiszpanią w Sewilli, stracą szansę na co najmniej trzecie miejsce, które przy dobrym bilansie punktowym i bramkowym może dać awans do 1/8 finału.
W takiej sytuacji Polacy - nawet w razie zwycięstwa w ostatniej kolejce 23 czerwca nad Szwedami - nie wyprzedziliby Słowaków, ponieważ mają od nich gorszy bilans bezpośrednich meczów.
Czytaj więcej:
Euro 2020: Każdy krok szwedzkich piłkarzy śledzony i dokumentowany
EURO 2020: Polska przegrała ze Słowacją 1:2
AdsByGoogle - In-Feed slot=4906192224
Zone type:d<== ==>place:d1<===
Webmaster: ZonePlace=d1; dzial=wiadomosci; Stan delivery
Zone type:e-desktop<== ==>place:e1-desktop<===
Webmaster: ZonePlace=e1-desktop; dzial=wiadomosci; Stan delivery
Zone type:d<== ==>place:d2<===
Webmaster: ZonePlace=d2; dzial=wiadomosci; Stan delivery
Zone type:d<== ==>place:d3<===
Webmaster: ZonePlace=d3; dzial=wiadomosci; Stan delivery
Zone type:d<== ==>place:d4<===
Webmaster: ZonePlace=d4; dzial=wiadomosci; Stan delivery