Menu
Zone type:ab<== ==>place:ab<===
Webmaster: ZonePlace=ab; dzial=wiadomosci; Stan delivery
English league: Bednarek injured, will not play against Moder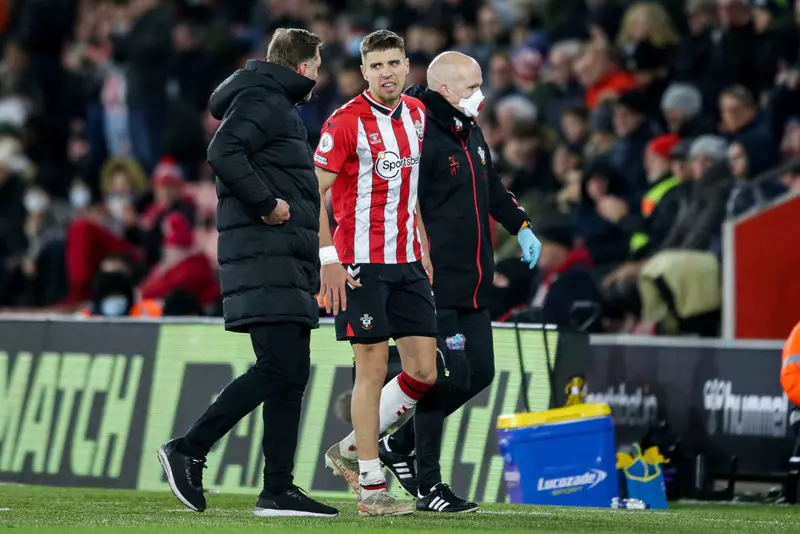 Jan Bednarek of Southampton FC due to a calf injury will not play in tomorrow's English league match against Brighton, whose player is Jakub Moder. Information about the absence of the Polish representative was confirmed by the coach of the 'Saints' Ralph Hasenhuettl.
Zone type:video<== ==>place:video<===
Webmaster: ZonePlace=video; dzial=wiadomosci; Stan delivery
Zone type:e-mobile<== ==>place:e1-mobile<===
Webmaster: ZonePlace=e1-mobile; dzial=wiadomosci; Stan delivery
News available in Polish
Bednarek w środowym spotkaniu z Leicester City (2:2) zdobył pierwszego w tym sezonie gola, ale pięć minut przed końcem gry musiał opuścić boisko. Dzisiaj Southampton poinformował, że Polak nie może zagrać z Brightonem.
25-letni były obrońca m.in. Lecha Poznań od 5. kolejki był w podstawowym składzie w każdym meczu "Świętych".
Zespół Southampton, który nie wygrał żadnego z trzech ostatnich meczów, z dorobkiem 15 punktów jest 15. w tabeli Premier League. Ekipa Brightonu ma cztery więcej i plasuje się na dziewiątej pozycji, ale na zwycięstwo czeka od 19 września. Z późniejszych dziewięciu spotkań siedem zremisowała i doznała dwóch porażek.
Czytaj więcej:
Liga angielska: Gol Bednarka, wygrane drużyn z czołówki
Rangnick jutro oficjalnie rozpocznie pracę jako trener "ManU"
Liga angielska: Ronaldo przekroczył granicę 800 goli w karierze
AdsByGoogle - In-Feed slot=4906192224
Zone type:d<== ==>place:d1<===
Webmaster: ZonePlace=d1; dzial=wiadomosci; Stan delivery
Zone type:e-desktop<== ==>place:e1-desktop<===
Webmaster: ZonePlace=e1-desktop; dzial=wiadomosci; Stan delivery
Zone type:d<== ==>place:d2<===
Webmaster: ZonePlace=d2; dzial=wiadomosci; Stan delivery
Zone type:d<== ==>place:d3<===
Webmaster: ZonePlace=d3; dzial=wiadomosci; Stan delivery
Zone type:d<== ==>place:d4<===
Webmaster: ZonePlace=d4; dzial=wiadomosci; Stan delivery