Menu
Zone type:ab<== ==>place:ab<===
Webmaster: ZonePlace=ab; dzial=wiadomosci; Stan delivery
DeLiga: Haaland with another goal, but injured again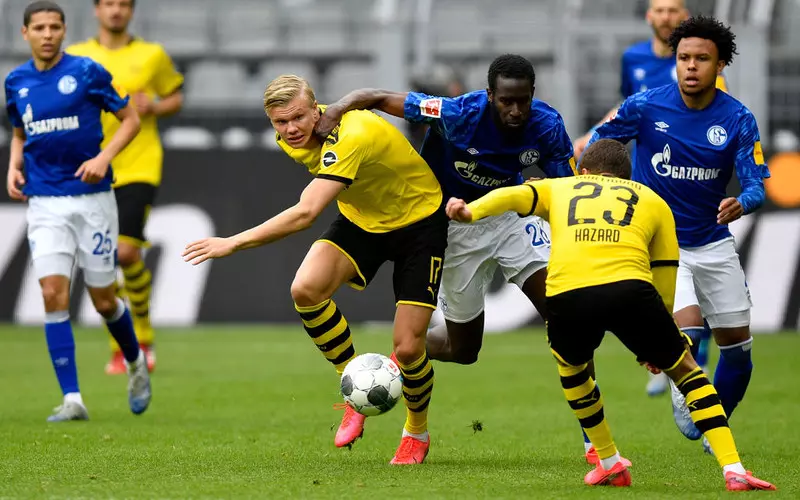 Erling Haaland scored for Borussia Dortmund in a 3-2 away win over Hoffenheim in the 20th round of the German Premier League, but had to leave the field with an injury. For now, it is not known how long the break in the game of the great Norwegian footballer will last.
Zone type:video<== ==>place:video<===
Webmaster: ZonePlace=video; dzial=wiadomosci; Stan delivery
Zone type:e-mobile<== ==>place:e1-mobile<===
Webmaster: ZonePlace=e1-mobile; dzial=wiadomosci; Stan delivery
News available in Polish
21-letni napastnik trafił do siatki już w szóstej minucie, lecz po godzinie gry nie był w stanie kontynuować zawodów i został zmieniony. Doznał prawdopodobnie kontuzji pachwiny; na razie nie ma oficjalnych informacji.
Ostatnie miesiące są pechowe dla Haalanda - w obecnym sezonie już dwukrotnie musiał pauzować z powodu problemów zdrowotnych.
Mimo tego zdobył dotychczas 16 bramek w tej edycji Bundesligi (prowadzi Robert Lewandowski - 23). Łącznie Norweg strzelił 56 goli dla Borussii w 57 ligowych występach.
Dzięki wygranej piłkarze BVB mają 43 punkty i tracą trzy do Bayernu Monachium. Drużyna Lewandowskiego zagra w niedzielę w Berlinie z Herthą.
Wyjazdowej porażki aż 1:5 z Bayerem Leverkusen doznał FC Augsburg. W ekipie gości wystąpiło dwóch Polaków - w bramce Rafał Gikiewicz, a w obronie do 74. minuty Robert Gumny.
AdsByGoogle - In-Feed slot=4906192224
Zone type:d<== ==>place:d1<===
Webmaster: ZonePlace=d1; dzial=wiadomosci; Stan delivery
Zone type:e-desktop<== ==>place:e1-desktop<===
Webmaster: ZonePlace=e1-desktop; dzial=wiadomosci; Stan delivery
Zone type:d<== ==>place:d2<===
Webmaster: ZonePlace=d2; dzial=wiadomosci; Stan delivery
Zone type:d<== ==>place:d3<===
Webmaster: ZonePlace=d3; dzial=wiadomosci; Stan delivery
Zone type:d<== ==>place:d4<===
Webmaster: ZonePlace=d4; dzial=wiadomosci; Stan delivery