Menu
Zone type:ab<== ==>place:ab<===
Webmaster: ZonePlace=ab; dzial=wiadomosci; Stan delivery
Cristiano Ronaldo nets 2 as Juventus wins at Parma 4-0 in Serie A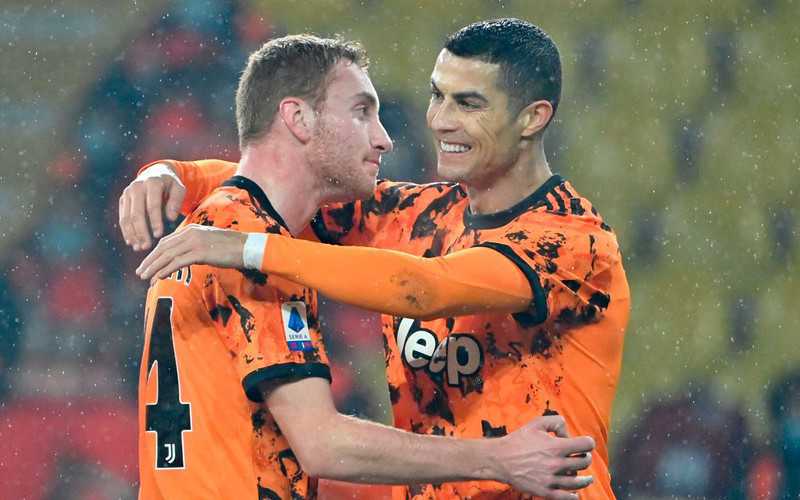 Cristiano Ronaldo responded to recent criticism with two goals to help Juventus win at Parma 4-0 in Serie A on Saturday.
Zone type:video<== ==>place:video<===
Webmaster: ZonePlace=video; dzial=wiadomosci; Stan delivery
Zone type:e-mobile<== ==>place:e1-mobile<===
Webmaster: ZonePlace=e1-mobile; dzial=wiadomosci; Stan delivery
News available in Polish
Dzięki zwycięstwu, mistrz Włoch awansował na drugie miejsce z 27 punktami. Takim samym dorobkiem może pochwalić się trzeci Inter Mediolan, a w tabeli prowadzi AC Milan, który ma o jeden punkt więcej.
Dominacja "Starej Damy" w Parmie nie podlegała dyskusji, a zwycięstwo ani przez chwilę nie było zagrożone. Ataki gości przyniosły pierwszy efekt w 23. minucie, kiedy do siatki trafił Szwed Dejan Kulusevski. Później gole zdobył Ronaldo - w 26. minucie głową oraz w 48. po uderzeniu z ostrego kąta, a wynik ustalił w 85. Hiszpan Alvaro Morata.
Od Ronaldo o dwa trafienia mniej mają Szwed Zlatan Ibrahimovic z AC Milan oraz Belg Romelu Lukaku z Interu Mediolan.
W bramce gości tym razem wystąpił Gianluigi Buffon, a Wojciech Szczęsny był rezerwowym. 42-letni golkiper rozegrał 654. spotkanie w Serie A, śrubując tym samym rekord ligi.
Czytaj więcej:
Liga Mistrzów: Manchester United za burtą, Juventus pokonał Barcelonę
Dwa gole i jubileusz Ronaldo. Zwycięstwo Juventusu
Złota Piłka: Pele, Maradona, Messi i Cristiano Ronaldo w "drużynie marzeń"
AdsByGoogle - In-Feed slot=4906192224
Zone type:d<== ==>place:d1<===
Webmaster: ZonePlace=d1; dzial=wiadomosci; Stan delivery
Zone type:e-desktop<== ==>place:e1-desktop<===
Webmaster: ZonePlace=e1-desktop; dzial=wiadomosci; Stan delivery
Zone type:d<== ==>place:d2<===
Webmaster: ZonePlace=d2; dzial=wiadomosci; Stan delivery
Zone type:d<== ==>place:d3<===
Webmaster: ZonePlace=d3; dzial=wiadomosci; Stan delivery
Zone type:d<== ==>place:d4<===
Webmaster: ZonePlace=d4; dzial=wiadomosci; Stan delivery