Menu
Zone type:ab<== ==>place:ab<===
Webmaster: ZonePlace=ab; dzial=wiadomosci; Stan delivery
The British woman ran 106 marathons in 106 days. She ran every day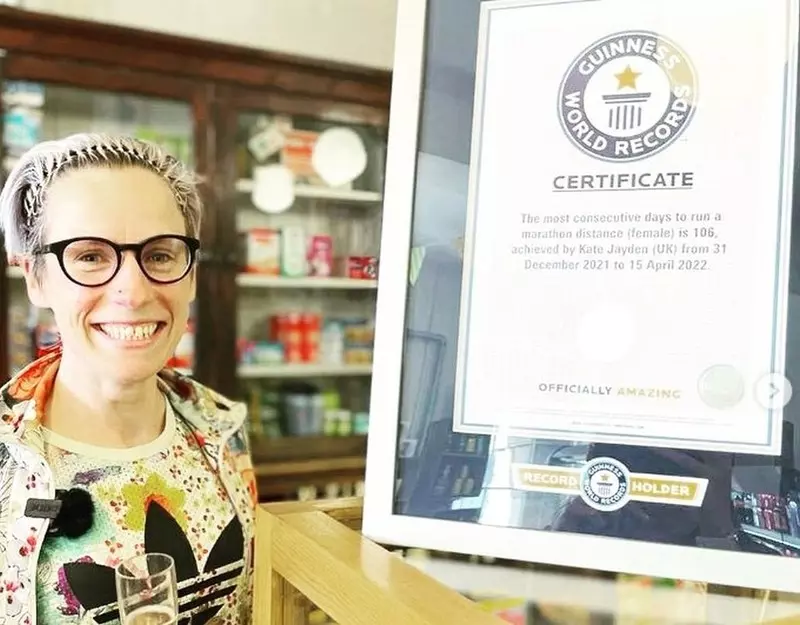 Kate Jayden, 35, from Derbyshire, England, broke the Guinness World Record for day-to-day marathons. She completed 106 such runs in 106 days. So far, no woman has managed to do so. She set the record high, even though her knee was broken during the beating.
Zone type:video<== ==>place:video<===
Webmaster: ZonePlace=video; dzial=wiadomosci; Stan delivery
Zone type:e-mobile<== ==>place:e1-mobile<===
Webmaster: ZonePlace=e1-mobile; dzial=wiadomosci; Stan delivery
News available in Polish
Kate Jayden bicie rekordu rozpoczęła 31 grudnia 2021 r., a zakończyła 15 kwietnia. Każdego dnia przebiegała dystans 42 km 195 m. Z wynikiem 106 maratonów w 106 dni z rzędu poprawiła wynik dotychczasowej liderki zestawienia, Amerykanki Alyssy Clark, która biegała przez 95 dni. Rekord Jayden dopiero teraz, po przejściu weryfikacji, został oficjalnie zatwierdzony.
Po upływie 46 dni, poczuła delikatny ból w kolanie. W maju przeszła badanie rezonansem magnetycznym i okazało się, że biegała ze złamanym kolanem. Przed nią operacja, której wynik nie jest pewny. Być może nie będzie mogła już biegać na tak długich dystansach.
Tymczasem Jayden już zastanawia się, jaki kolejny rekord pobije. Być może poświęci się jeździe na rowerze, być może wioślarstwu.
What started as running 100 marathons in 100 days ended up being a new record for the most consecutive days running the 42km distance! 🏃‍♀️https://t.co/qPcJIPEh7S

— Guinness World Records (@GWR) August 9, 2022
Początkowo, jak informuje serwis BBC, Jayden miała zamiar przebiec "tylko" 100 maratonów w 100 dni. Byłby to dystans podobnego do tego, jaki pokonać muszą syryjscy uchodźcy uciekający z Aleppo do Wielkiej Brytanii.
Chciała w ten sposób nagłośnić zbiórkę pieniędzy na rzecz organizacji wspierających uchodźców. Jednak, gdy opinia publiczna zaczęła bardzo interesować się jej wyczynami, postanowiła, że przy okazji spróbuje pobić rekord Guinnessa.
Jaki był finał? Nie tylko udało jej się znaleźć na kartach szacownej księgi, ale też zebrać 43 tys. funtów na cele charytatywne.
Czytaj więcej:
Brytyjski lekkoatleta Farah jako dziecko przeżył traumę
47-letni Polak jutro przepłynie Loch Ness. Celem pomoc charytatywna
AdsByGoogle - In-Feed slot=4906192224
Zone type:d<== ==>place:d1<===
Webmaster: ZonePlace=d1; dzial=wiadomosci; Stan delivery
Zone type:e-desktop<== ==>place:e1-desktop<===
Webmaster: ZonePlace=e1-desktop; dzial=wiadomosci; Stan delivery
Zone type:d<== ==>place:d2<===
Webmaster: ZonePlace=d2; dzial=wiadomosci; Stan delivery
Zone type:d<== ==>place:d3<===
Webmaster: ZonePlace=d3; dzial=wiadomosci; Stan delivery
Zone type:d<== ==>place:d4<===
Webmaster: ZonePlace=d4; dzial=wiadomosci; Stan delivery