Menu
Zone type:ab<== ==>place:ab<===
Webmaster: ZonePlace=ab; dzial=wiadomosci; Stan delivery
Bayern Munich winger Gnabry tests positive for Covid-19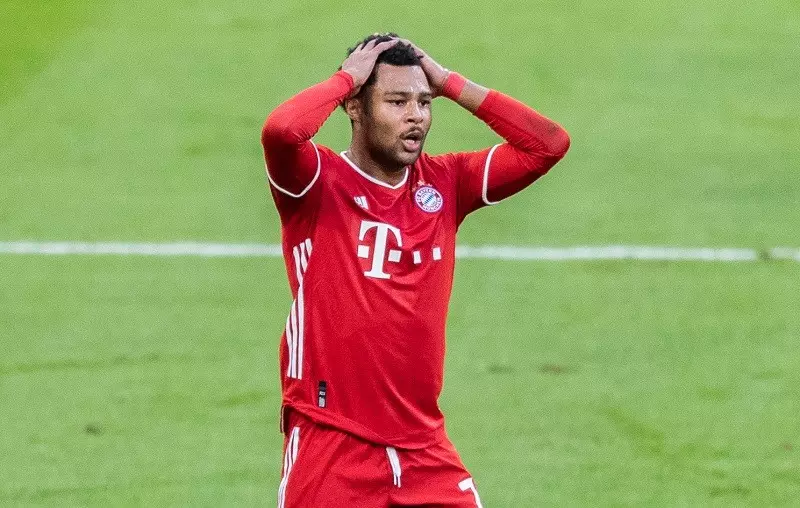 Bayern Munich winger Serge Gnabry has tested positive for Covid-19, the club has confirmed, handing the Champions League holders a blow ahead of their quarter-final reunion with Paris Saint-Germain on Wednesday.

Zone type:video<== ==>place:video<===
Webmaster: ZonePlace=video; dzial=wiadomosci; Stan delivery
Zone type:e-mobile<== ==>place:e1-mobile<===
Webmaster: ZonePlace=e1-mobile; dzial=wiadomosci; Stan delivery
News available in Polish
Pomocnik Bayernu Gnabry został natychmiast po otrzymaniu wyniku testu odizolowany od drużyny. Przebywa w swoim domu i czuje się dobrze. Nie ma na razie większych objawów choroby, choć narzeka na ból gardła.
Na razie też nie wiadomo, czy zagra w rewanżowym spotkaniu w Paryżu, ale jak podała niemiecka agencja dpa - jest to mało prawdopodobne.
Gnabry po raz drugi jest chory na Covid-19. Także w październiku miał pozytywny test na koronawirusa.
Z kolei w ekipie PSG z tego samego powodu zabraknie reprezentantów Włoch Marco Verrattiego i Alessandro Florenziego. Verrati już po raz drugi uzyskał pozytywny wynik testu na obecność w organizmie koronawirusa; wcześniej chorował w styczniu. Teraz dołączył do niego Florenzi, który zakażenie złapał prawdopodobnie w trakcie zgrupowania drużyny narodowej.
Argentyński trener PSG Mauricio Pochettino nie będzie mógł także skorzystać z kontuzjowanych Juana Bernata i Leonardo Paredesa.
AdsByGoogle - In-Feed slot=4906192224
Zone type:d<== ==>place:d1<===
Webmaster: ZonePlace=d1; dzial=wiadomosci; Stan delivery
Zone type:e-desktop<== ==>place:e1-desktop<===
Webmaster: ZonePlace=e1-desktop; dzial=wiadomosci; Stan delivery
Zone type:d<== ==>place:d2<===
Webmaster: ZonePlace=d2; dzial=wiadomosci; Stan delivery
Zone type:d<== ==>place:d3<===
Webmaster: ZonePlace=d3; dzial=wiadomosci; Stan delivery
Zone type:d<== ==>place:d4<===
Webmaster: ZonePlace=d4; dzial=wiadomosci; Stan delivery