Menu
Zone type:ab<== ==>place:ab<===
Webmaster: ZonePlace=ab; dzial=wiadomosci; Stan delivery
Ballon d'Or 'Dream Team' revealed as Maradona and Pele join Ronaldo and Messi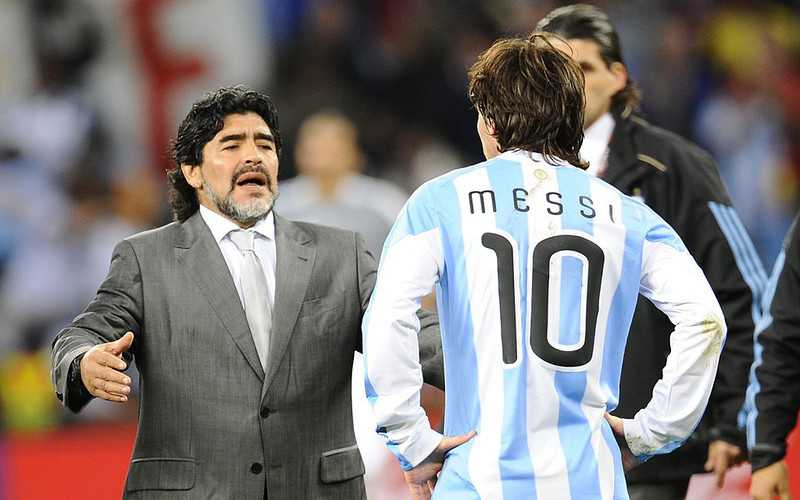 France Football have sparked debate across social media by revealing their all-time best Ballon d'Or 'Dream Team'.
Zone type:video<== ==>place:video<===
Webmaster: ZonePlace=video; dzial=wiadomosci; Stan delivery
Zone type:e-mobile<== ==>place:e1-mobile<===
Webmaster: ZonePlace=e1-mobile; dzial=wiadomosci; Stan delivery
News available in Polish
Tegoroczna edycja Złotej Piłki została odwołana z powodu pandemii koronawirusa, co sprawiło, że szansę na prestiżowe wyróżnienie stracił Robert Lewandowski. Nigdy wcześniej polski piłkarz nie wygrał tego plebiscytu, organizowanego od 1956 roku.
Zamiast Złotej Piłki zorganizowano inny plebiscyt: Ballon d'Or Dream Team. "Drużynę marzeń" wybrała grupa 140 dziennikarzy z całego świata.
Lewandowski, najlepszy strzelec Bundesligi oraz Ligi Mistrzów, triumfator tych rozgrywek z Bayernem Monachium, został za to nominowany do trójki finalistów plebiscytu FIFA na Piłkarza Roku, obok Messiego i Cristiano Ronaldo. Zwycięzca ma być ogłoszony w czwartek.
"Historyczna jedenastka" magazynu "France Football":
Bramkarz - Lew Jaszyn (ZSRR)
Prawy obrońca - Cafu (Brazylia)
Lewy obrońca - Paolo Maldini (Włochy)
Środkowy obrońca - Franz Beckenbauer (Niemcy)
Pomocnicy - Lothar Matthaeus (Niemcy) i Xavi Hernandez (Hiszpania)
Ofensywni pomocnicy - Pele (Brazylia) i Diego Maradona (Argentyna)
Prawy napastnik - Lionel Messi (Argentyna)
Lewy napastnik - Cristiano Ronaldo (Portugalia)
Środkowy napastnik - Ronaldo (Brazylia)
Czytaj więcej:
Liga włoska: Kolejne dwa gole Ronaldo, Buffon śrubuje rekord
Diego Maradona spoczął w "Ogrodzie Pokoju"
Pewne zwycięstwo Barcelony. Hołd Messiego dla Maradony
AdsByGoogle - In-Feed slot=4906192224
Zone type:d<== ==>place:d1<===
Webmaster: ZonePlace=d1; dzial=wiadomosci; Stan delivery
Zone type:e-desktop<== ==>place:e1-desktop<===
Webmaster: ZonePlace=e1-desktop; dzial=wiadomosci; Stan delivery
Zone type:d<== ==>place:d2<===
Webmaster: ZonePlace=d2; dzial=wiadomosci; Stan delivery
Zone type:d<== ==>place:d3<===
Webmaster: ZonePlace=d3; dzial=wiadomosci; Stan delivery
Zone type:d<== ==>place:d4<===
Webmaster: ZonePlace=d4; dzial=wiadomosci; Stan delivery