Menu
Zone type:ab<== ==>place:ab<===
Webmaster: ZonePlace=ab; dzial=wiadomosci; Stan delivery
Backlog of longest-wait patients slashed in England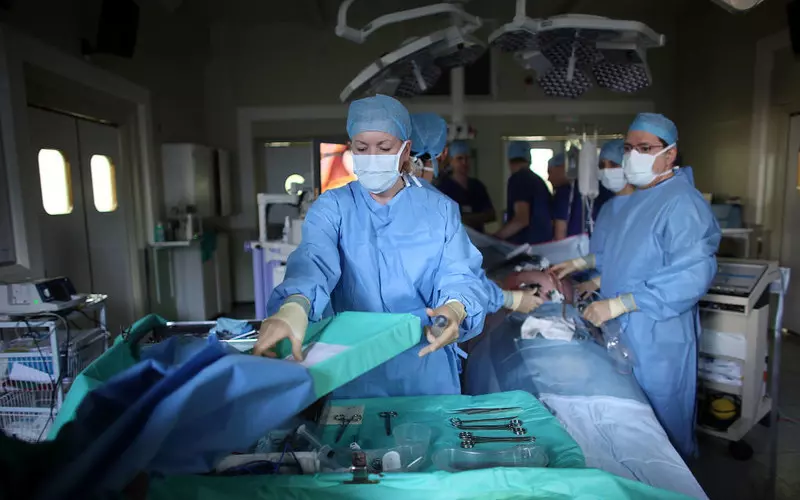 The number of people waiting longer than two years for routine operations in England has fallen from 22,500 at the start of the year, to fewer than 200, according to NHS figures.


Zone type:video<== ==>place:video<===
Webmaster: ZonePlace=video; dzial=wiadomosci; Stan delivery
Zone type:e-mobile<== ==>place:e1-mobile<===
Webmaster: ZonePlace=e1-mobile; dzial=wiadomosci; Stan delivery
News available in Polish
Opublikowane przez NHS dane dotyczące opóźnień powyżej 2 lat nie obejmują ok. 2,5 tys. pacjentów, których leczenie "wymaga skomplikowanych zabiegów" lub tych, którzy dobrowolnie zrezygnowali z leczenia, odrzucając ofertę przyjęcia w innej placówce.
Organ NHS England podkreślił, iż udało się osiągnąć "pierwszy kamień milowy w planie eliminowania zaległości".
Wskazano jednocześnie, iż wciąż rekordowe 6,6 mln pacjentów oczekuje na rozpoczęcie leczenia w szpitalu.
Zdaniem ekspertów od służby zdrowia, największe wyzwanie będzie dotyczyło uporania się z tymi zabiegami, które są opóźnione o ponad rok. Szacuje się, że jest ich ok. 400 tys.
Dodatkowymi problemami, które napotyka NHS, są braki kadrowe oraz widmo trudnego okresu jesienno-zimowego.
Kolejnym krokiem NHS w Anglii jest obecnie jednak skupienie się na 18-miesięcznych opóźnieniach. Ich liczba to ok. 50 tys. Organ służby zdrowia chce to osiągnąć najpóźniej do kwietnia przyszłego roku.

Czytaj więcej:
NHS zbyt uzależnione od pracowników z zagranicy?
Brytyjski minister zdrowia: NHS nie ma czasu, aby czekać na nowego premiera
BBC ujawnia prawdziwą skalę niedoboru dentystów w brytyjskim NHS
AdsByGoogle - In-Feed slot=4906192224
Zone type:d<== ==>place:d1<===
Webmaster: ZonePlace=d1; dzial=wiadomosci; Stan delivery
Zone type:e-desktop<== ==>place:e1-desktop<===
Webmaster: ZonePlace=e1-desktop; dzial=wiadomosci; Stan delivery
Zone type:d<== ==>place:d2<===
Webmaster: ZonePlace=d2; dzial=wiadomosci; Stan delivery
Zone type:d<== ==>place:d3<===
Webmaster: ZonePlace=d3; dzial=wiadomosci; Stan delivery
Zone type:d<== ==>place:d4<===
Webmaster: ZonePlace=d4; dzial=wiadomosci; Stan delivery