Menu
Zone type:ab<== ==>place:ab<===
Webmaster: ZonePlace=ab; dzial=wiadomosci; Stan delivery
ATP tournament in Metz: Hurkacz semi-final defeat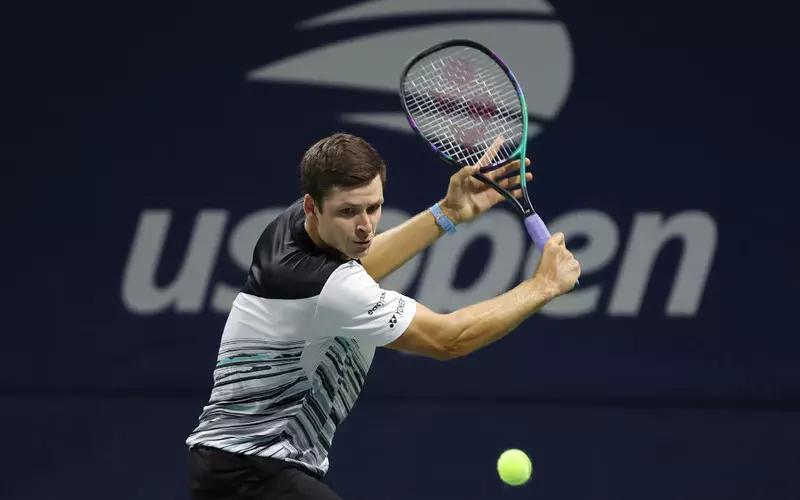 Hubert Hurkacz, seeded with number two, will not defend his title in the ATP tournament in Metz (prize pool of EUR 534.6 thousand). Yesterday, the Polish tennis player lost in the semi-finals to Italy's Lorenzo Sonego 6: 7 (5-7), 4: 6.
Zone type:video<== ==>place:video<===
Webmaster: ZonePlace=video; dzial=wiadomosci; Stan delivery
Zone type:e-mobile<== ==>place:e1-mobile<===
Webmaster: ZonePlace=e1-mobile; dzial=wiadomosci; Stan delivery
News available in Polish
Z 65. obecnie w światowym rankingu Sonego Hurkacz mierzył się po raz czwarty i doznał trzeciej porażki.
27-letni Włoch bardzo dobrze serwował. W efekcie dwa lata młodszy Polak nie miał nawet jednej okazji na przełamanie.
W tie-breaku pierwszego seta rywalizacja punkt za punkt toczyła się do stanu 4-4. W tym momencie Sonego wygrał jednak dwie piłki z rzędu, a chwilę później cieszył się ze zwycięstwa w tej partii.
Hurkacz długo również świetnie serwował - posłał pięć asów, a rywal dwa - ale w siódmym gemie drugiego seta podanie zawiodło go. Wówczas Sonego wykorzystał jedynego w tym spotkaniu break pointa.
Wczorajsza porażka oznacza, że Hurkacz w poniedziałkowym notowaniu listy ATP spadnie z 10. na 11. pozycję.
Dziś rywalem Sonego będzie Aleksander Bublik. Rozstawiony z numerem siódmym Kazach do finału awansował po rozegraniu zaledwie trzech gemów, bo skreczował jego rywal Szwajcar Stan Wawrinka.
W finale debla w Metz wystąpią natomiast Jan Zieliński i Hugo Nys z Monako.
Czytaj więcej:
US Open: Hurkacz awansował do 2. rundy
Rankingi WTA i ATP: Świątek powiększa przewagę, Alcaraz nowym liderem
AdsByGoogle - In-Feed slot=4906192224
Zone type:d<== ==>place:d1<===
Webmaster: ZonePlace=d1; dzial=wiadomosci; Stan delivery
Zone type:e-desktop<== ==>place:e1-desktop<===
Webmaster: ZonePlace=e1-desktop; dzial=wiadomosci; Stan delivery
Zone type:d<== ==>place:d2<===
Webmaster: ZonePlace=d2; dzial=wiadomosci; Stan delivery
Zone type:d<== ==>place:d3<===
Webmaster: ZonePlace=d3; dzial=wiadomosci; Stan delivery
Zone type:d<== ==>place:d4<===
Webmaster: ZonePlace=d4; dzial=wiadomosci; Stan delivery