Menu
Zone type:ab<== ==>place:ab<===
Webmaster: ZonePlace=ab; dzial=wiadomosci; Stan delivery
A price record has been broken for an apartment in Dubai. The amount knocks you off your feet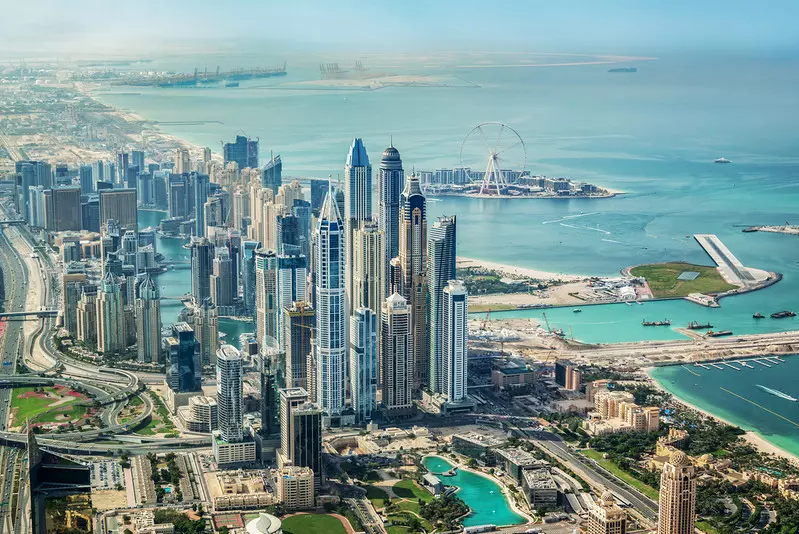 410 million dirhams, or about 490 million zlotys. That's how much the buyer paid for the most expensive apartment in the history of the United Arab Emirates. The penthouse in the Bulgari Lighthouse Dubai skyscraper has an area of 3,620 square meters, a private elevator, a swimming pool and the best view of sunsets over the Persian Gulf.
Zone type:video<== ==>place:video<===
Webmaster: ZonePlace=video; dzial=wiadomosci; Stan delivery
Zone type:e-mobile<== ==>place:e1-mobile<===
Webmaster: ZonePlace=e1-mobile; dzial=wiadomosci; Stan delivery
News available in Polish
Informację o rekordowej transakcji podał Departament Gruntów Dubaju. Najdroższy w historii Zjednoczonych Emiratów Arabskich apartament sprzedano za 410 milionów dirhamów, czyli w przeliczeniu około 490 milionów złotych. Penthouse ma powierzchnię 3 620 metrów kwadratowych, więc łatwo obliczyć, że cena za jeden metr wynosiła ponad 135 tys. złotych.
Najdroższy penthouse mieści się w luksusowym wieżowcu Bulgari Lighthouse Dubai na Jumeirah Bay Island - sztucznie utworzonej wyspie w kształcie konika morskiego oddalonej o około pół kilometra od plaży w Dubaju. Ta oaza luksusowych hoteli i apartamentowców zatopionych w zieleni i skąpanych w słońcu z lądem połączona jest mostem.
Rozmachu, z jakim zaprojektowano penthouse, nie oddaje nawet jego oszałamiająca powierzchnia - wnętrze ma bowiem podwójną wysokość i dzięki szklanym ścianom rozpościerają się stąd zapierające dech widoki na wszystkie strony świata.
W apartamencie jest salon, jadalnia, pokój rodzinny, pięć sypialni (które właściwie są niezależnymi apartamentami), dwie kuchnie oraz gabinet, siłownia i sauna. Całość okala wielki taras z prywatnym basenem i widokami na wszystkie strony świata.
Właściciel ma też do dyspozycji prywatną windę, pełną obsługę konsjerża i oczywiście dostęp do wszystkich udogodnień dla mieszkańców apartamentowca, jak luksusowe lobby, basen, śródziemnomorski ogród czy molo.
Właścicielem Bulgari Lighthouse Dubai jest firma Meraas, spółka zależna Dubai Holding.
Czytaj więcej:
Polacy kupują coraz więcej domów za granicą
Media: Niemal milion Belgów posiada po kilka nieruchomości
Ceny nieruchomości spadają w jednym z najdroższych krajów Europy. Czy UK będzie następne?
AdsByGoogle - In-Feed slot=4906192224
Zone type:d<== ==>place:d1<===
Webmaster: ZonePlace=d1; dzial=wiadomosci; Stan delivery
Zone type:e-desktop<== ==>place:e1-desktop<===
Webmaster: ZonePlace=e1-desktop; dzial=wiadomosci; Stan delivery
Zone type:d<== ==>place:d2<===
Webmaster: ZonePlace=d2; dzial=wiadomosci; Stan delivery
Zone type:d<== ==>place:d3<===
Webmaster: ZonePlace=d3; dzial=wiadomosci; Stan delivery
Zone type:d<== ==>place:d4<===
Webmaster: ZonePlace=d4; dzial=wiadomosci; Stan delivery