Menu
Zone type:ab<== ==>place:ab<===
Webmaster: ZonePlace=ab; dzial=wiadomosci; Stan delivery
Tesco plans first checkout-free stores and sees normal shopping patterns return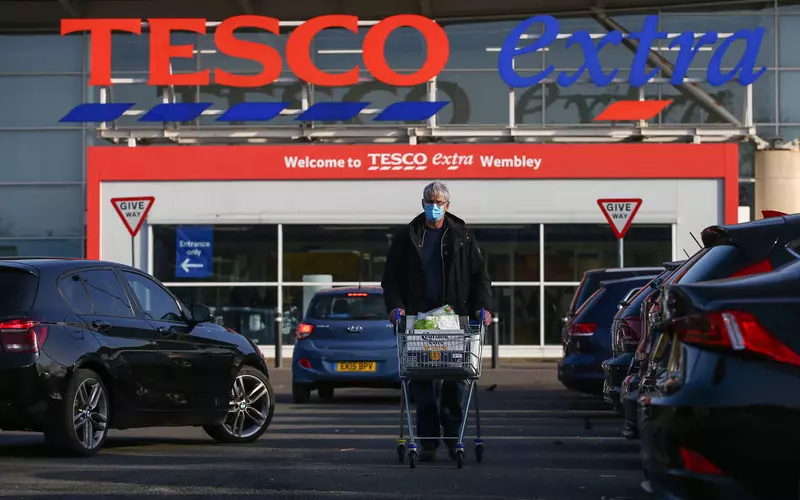 Tesco is set to launch its first checkout-free store following a successful trial for staff at its head office over the past year.
Zone type:video<== ==>place:video<===
Webmaster: ZonePlace=video; dzial=wiadomosci; Stan delivery
Zone type:e-mobile<== ==>place:e1-mobile<===
Webmaster: ZonePlace=e1-mobile; dzial=wiadomosci; Stan delivery
News available in Polish
Koncepcja sklepów, w których klienci mogą wziąć produkt z półki i wyjść, nie płacąc na miejscu, staje się coraz popularniejsza. Po sukcesie Amazon Fresh w Londynie, również inni brytyjscy giganci rozważają podobne rozwiązanie.
Podobnie jak Amazon, bezkasowy sklep Tesco będzie działał przy użyciu sieci kamer i czujników, które śledzą, co kupujący biorą z półki. Rozliczenie za zakupy będzie ściągane i wysyłane automatycznie po wyjściu ze sklepu.
Sieć Tesco poinformowała, że z powodzeniem przetestowała już wizję nowego sklepu w swojej siedzibie w Welwyn Garden City (hr. Hertfordshire). Nie ujawniono jednak, w którym miejscu powstanie pierwszy taki sklep - wiadomo jedynie, że decyzja zostanie podana publicznie w nadchodzących tygodniach.
"To wiodąca technologia, ale wciąż uczymy się, jak ją wdrożyć. Minie trochę czasu, zanim będziemy gotowi" - przekazał szef Tesco, Ken Murphy.
Eksperci zwracają uwagę, że tego rodzaju trend może zapoczątkować trzecią falę automatyzacji w handlu. Pierwsza miała miejsce w 2000 r., gdy pojawiły się samoobsługowe kasy, a druga w 2010 r., gdy wdrożono rozwiązanie "skanuj i płać".
Związki zawodowe ostrzegają, że trend może szybko zdominować handel w całym kraju i doprowadzić do rekordowej fali zwolnień.
Czytaj więcej:
Kolejny sklep Amazon Fresh w Londynie. Gigant zapowiada dalszą ekspansję
Tesco testuje 60-minutowe dostawy pod same drzwi
AdsByGoogle - In-Feed slot=4906192224
Zone type:d<== ==>place:d1<===
Webmaster: ZonePlace=d1; dzial=wiadomosci; Stan delivery
Zone type:e-desktop<== ==>place:e1-desktop<===
Webmaster: ZonePlace=e1-desktop; dzial=wiadomosci; Stan delivery
Zone type:d<== ==>place:d2<===
Webmaster: ZonePlace=d2; dzial=wiadomosci; Stan delivery
Zone type:d<== ==>place:d3<===
Webmaster: ZonePlace=d3; dzial=wiadomosci; Stan delivery
Zone type:d<== ==>place:d4<===
Webmaster: ZonePlace=d4; dzial=wiadomosci; Stan delivery